A SOCIAL media platform for Sabahans residing in Peninsular Malaysia went abuzz recently after a group member posted about a RM70,363 fare by Malaysia Airlines quoted by the airasia superapp for a one-way trip from the Kuala Lumpur International Airport (KLIA) to Sandakan.
It is unclear if someone has doctored pricing of the airfare to that ridiculous figure which otherwise could have brought 167 round trips (economy class) between Kuala Lumpur and Sandakan on board AirAsia (assuming a typical low season RM421 fare for a 2h 50m non-stop trip) or 67 round trips by Malaysia Airlines (3h non-stop) from RM 1,047.
But thankfully, group members of the Kami Orang Asal SABAH BAH Tapi Tinggal di Semenanjung Facebook page did not get carry away with authenticity of the airfare but rather took it as a joke.
The dubious screenshots had quoted two economy class flights at RM70,363 for June 16 that were scheduled to depart KLIA at 9pm and arrive in Sandakan the next day at 10.10am.
The first flight had to make an 8h 35m stop-over at Kota Kinabalu (KK) in addition to a 25m stop at Lahad Datu while the second flight had to make a 7h 40m stop-over in KK and 1h 20m stop at Lahad Datu.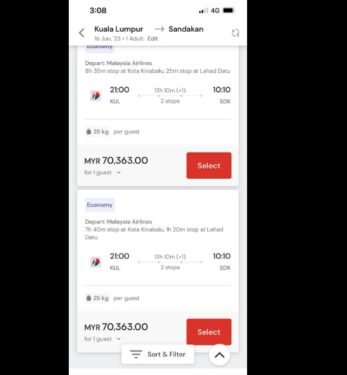 A check by FocusM on the airasia superapp today shows that there are no such outrageously pricy fares.
There are two one-way flights from KLIA to Sandakan tomorrow (June 20) evening at 9pm and 10pm respectively at RM990 but both flights would only reach their destination the following day) at 10.40am.
The delay is due to a stop-over at Kota Kinabalu (10h 20m for the first flight and 9h 20m for the second flight) after which passengers will have to switch to Firefly flight FY2602 to complete the remainder of their journey.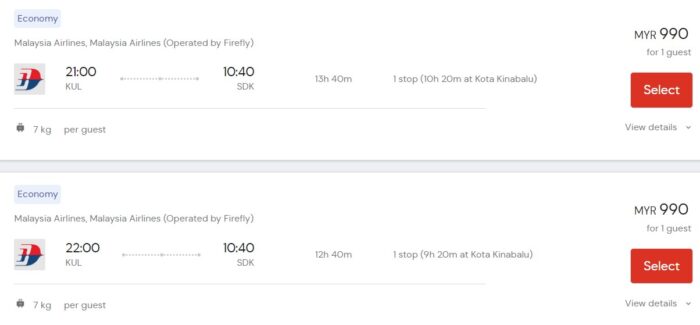 For price comparison, a one-way AirAsia flight departing klia2 at 9.20pm and arrive in Sandakan at 7.25pm the next day (with one 6h 40m stop-over at KK) costs RM470.

Anyway, below are some reactions from group members of Kami Orang Asal SABAH BAH Tapi Tinggal di Semenanjung Facebook page upon getting to know that it would have cost them a bomb to return to their respective hometowns:
Sage Kurama: The price of a kidney.
Inay Min Rose: Astaghfirullah halazim (I seek forgiveness of Allah All Mighty) … The best Rahmah price.
Raid Dash Saliudin: At the price of the jet fare … can arrive in 15 minutes.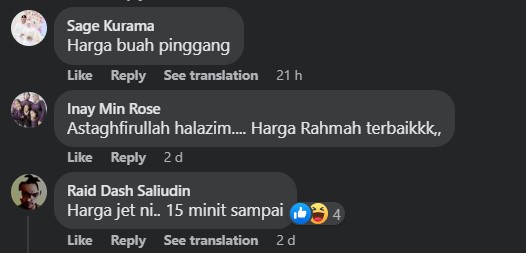 Bro Ryan: Wow…the best ticket price … fly today and only reach Sabah next year.
Rhythmé MnOloqué: At this rate, we better start planning to row our boat back to Sabah from Peninsular Malaysia.
NJ Adamdyan: At this price, we can already fly to the moon.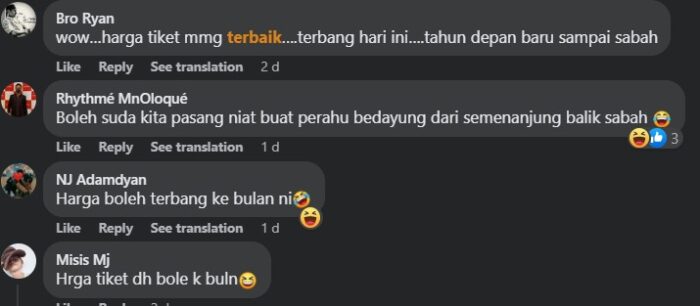 Cik Amy: Transit at Dubai first.
MuribDewy Dady Anaqi: Pick up from our house (in the peninsula) and drop off also at our house (in Sabah).
Anjang Saufie: He's taking us to dine on the moon, then only return to earth. – June 19, 2023