WHILE former premier Datuk Seri Ismail Sabri Yaakob was so gung-ho to popularise the use of Bahasa Malaysia till even European and American shores during his 14-month old administration, PAS has gone one step better by wanting "to diginify" the use of Jawi – at least within the Malaysian shores.
The Islamist party's Parit Buntar MP Mohd Misbahul Munir Masduki wants Jawi script to be used in official affairs as an effort to restore the dignity of the script, especially those involving various agencies of the Prime Minister's Department, particularly the Religious Affairs Department.
According to the PAS central committee member, his proposal encapsulates an effort to preserve and ensure continuity in the learning of the Jawi script in this country so that Malaysians at large will not be out of touch with the country's origins.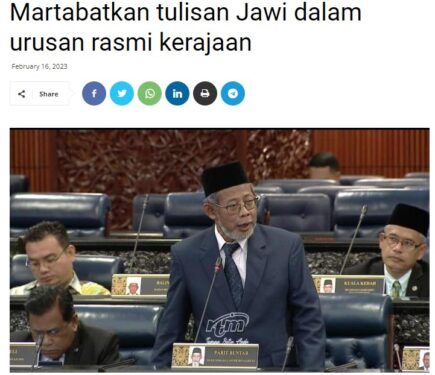 "We want Malaysians regardless of race to know the origin of our country, not to mention Malaysians especially the Malays to know how to write Jawi," he said while interrupting the motion of thanks on the royal address debate by Jerai MP Sabri Azit in the Dewan Rakyat, today.
"Other nations in Southeast Asia each has their own writing such as Thai, Khmer and Chinese. What's wrong then with us restoring the dignity of Jawi writing?"
Concurring with Misbahul's proposal, Sabri decided to include it in his debate speech.
In addition, Sabri who is also a Dewan Munsyi Jawi (knowledgeable Jawi teacher) appreciates the continuation of the Jawi preservation programme by the former Minister in the Prime Minister's Department (Religious Affairs) through the Friday Jawi class programme.
He further hopes that the new Religious Affairs Minister Datuk Dr Mohd Na'im Mokhtar can continue to breathe new life into creative ideas to cultivate, empower and dignify Jawi writing to children nationwide. – Feb 16, 2023
Main photo credit: Kerina Yin on Wikimedia