"THERE is no point in hiding. If you want to run for the post of UMNO president and deputy president, just voice out your intention," the party's information chief Datuk Isham Jalil told the media at the 2022 UMNO general assembly which entered its second day today.
"Anyone wishing to run for the two highest positions in the party just made your intention known, and we will not stop anyone who wants to contest (for both positions)."
In his visit to the media site and meeting media practitioners covering the UMNO general assembly at the World Trade Centre (WTC) Kuala Lumpur, Isham said challenging the two highest positions in UMNO has an impact on the party because both the party president (Datuk Seri Ahmad Zahid Hamidi) and deputy president (Datuk Seri Mohamad Hasan) "were only recently appointed as Cabinet Ministers" (on Dec 2 to be precise).
"I see this unity government as being very fragile. Both the party's president and his deputy were appointed into the government which is not something easy for UMNO after Barisan Nasional (BN) lost badly in the 14th General Election (GE14) and GE15," justified Isham who was made UMNO's information chief on Nov 20 following the resignation of Shahril Hamdan earlier that day.
"But as I said earlier, we do not prevent anyone who wants to contest, so long as this does not interfere with democratic practises within the party."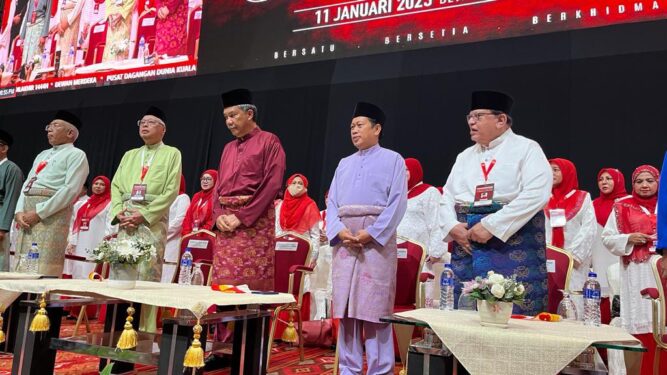 According to Isham, 140 out of 191 UMNO divisions have thus far stated that both the positions of president and deputy president need not be contested for the time being.
"Such was the feedback from 140 divisions, of which is more than two-thirds of the total number of divisions within the party," he revealed. "However, tomorrow (Friday) and the day after (Saturday) are decisive days for the UMNO's grassroots to ascertain if the party's top positions including that of the supreme council members are contested or otherwise."
Touching on whether members who are deemed traitors in the party should be removed or otherwise, Isham said the party's constitution stipulated that the membership of any member who violated discipline would be suspended.
"So far, we know that two divisions have been suspended, namely Arau and Tanah Merah," he confirmed.
Looking ahead, Isham said the general assembly will also pay attention to the state elections that will be held in six states, namely Penang, Selangor, Negeri Sembilan, Kedah, Kelantan, and Terengganu.
"Out of the six states that will face the state polls, only two states, namely Kelantan and Terengganu, which I have yet to visit due to the flood situation there," Isham pointed out. "Henceforth, whether UMNO will be with Pakatan Harapan (PH) in light of the state elections later, has yet to be discussed." – Jan 12, 2023