IN THE post six states polls period, retired DAP supremo Tan Sri Lim Kit Siang has suddenly turned doubtful if Malaysia can ever "rise up again to become a great world-class nation by reversing the national decline of the last few decades and losing out to one nation after another".
This comes about as Kelantan Amanah has yesterday (Aug 19) challenged Kelantan Menteri Bear (MB) Datuk Nassuruddin Daud to prove his claims that the party's (Amanah) newly elected state assemblymen were involved in actions against Islam.
"But one thing is certain – Malaysia cannot rise up again to become a great world-class nation if Malaysians cannot distinguish between right from wrong and are influenced by lies, falsehoods, fake news and hate speech," cautioned the veteran lawmaker in his latest media statement.
Amanah legal bureau director Hisham Fauzi said the move was necessary as Nassuruddin had openly made the allegations in his lecture in Kota Bharu that PAS' victories in the recent six state elections as a victory for Islam.
Nassuruddin who is also the Meranti state assemblyman has claimed the two seats won in Kelantan by the Pakatan Harapan-Barisan Nasional (PH-BN) alliance, namely Amanah's Hafidzah Mustakim in Kota Lama and UMNO's Mohd Syahbudin Hashim in Galas, were now held by those "against the Islamic struggle".
Hisham said Nassuruddin's claims would create a wrong public perception of the individuals when all Muslims have a right to carry out their struggles based on Islam as taught by Prophet Muhammad SAW and that such right should not be "monopolised" by PAS.
"It is not surprising that the new Kelantan MB is unable to prove that Amanah is anti-Islam, when PAS president Tan Sri Hadi Awang is himself guilty of making unsubstantiated allegations and is unable to produce an iota of evidence to substantiate his preposterous allegations that DAP is anti-Malay, anti-Islam, communist and promoting Islamopobia," Kit Siang hit out.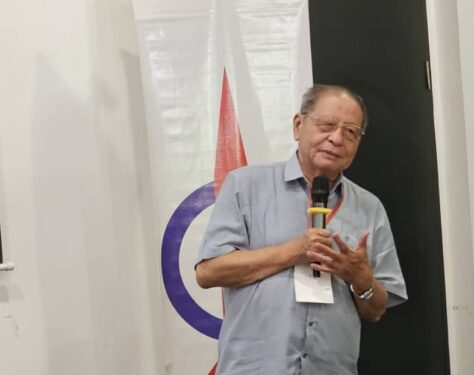 'Hadi is the supreme example of Islamic leaders in Malaysia making wild, preposterous, and completely baseless allegations of political opponents, a practice which must be stopped in an era where the toxic and divisive politics of lies, falsehoods, fake news and hate speech had  polarised race and religious relations in a plural society like Malaysia."
Kit Siang further wondered if Hadi is suggesting that Malaysians who do not vote for PAS candidates in elections were promoting Islamophobia.
"Hadi got away in 2018 when he made the preposterous allegations against the DAP for being the mastermind to ratify the International Convention on the Elimination of All Forms of Racial Discrimination (ICERD) when the DAP knew nothing about the issue," recalled Malaysia's longest serving opposition leader of 29 years (on three separate occasions).
"The ICERD issue in 2018 allowed Hadi to spread lies and falsehoods that DAP was anti-Malay, anti-Islam and anti-royalty.
'Did Hadi seek clarification from Tun Dr Mahathir Mohamad who was prime minster (PM) at the time whether DAP was the 'mastermind' of Dr Mahathir's speech at the UN General Assembly  in September 2018 as Dr Mahathir and Hadi have become such close political allies?"
Additionally, Kit Siang claimed that Hadi had denounced the Malaysian Constitution as an "infidel Constitution" in the 1980s".
"Has Hadi changed his mind? I cannot see Malaysia rising up again to become a great world-class power to avoid the fate of a divided, failed and corrupt state if Malaysians can be influenced by lies, falsehoods, fake news and hate speech," lamented the 82-year-old Kit Siang who held the post of DAP's secretary-general for 30 years (1969-1999).
"Can Malaysians show the world how in the era of social media we can free ourselves from the tyranny and peril of lies, falsehoods, fake new and hate speech?" – Aug 20, 2023