LEGAL practitioner Mansoor Saat who was recently sought after by the Malaysian Anti-Corruption Commission (MACC) to assist a probe into corruption and misappropriation of fund pertaining to the National Integrated Immigration System (NIISe) project has denied that he was not contactable.
The 69-year-old who was named alongside Datuk Seri Muhammad Adlan Berhan – the son-in-law of former premier and Bersatu president Tan Sri Muhyiddin Yassin – in an Aug 7 media statement by the graft buster agency further claimed that the investigating officer (IO) of his case is aware of his whereabouts.
"I am not a fugitive. I am also not on the run. The IO despite knowing the truth has sought to cast aspersions on my integrity," he hit out in a media statement. "My leaving the country which was done lawfully is being turned against me as a sign of guilty conduct. I reject that false narrative with all the forces at my disposal."
Recalling his ordeal, Mamoor who is also a director and shareholder of NERS Sdn Bhd, a concession holder of the National Foreigners Enforcement and Registration System (NERS), said he was first contacted MACC in mid-March this year.
"I was told that my assistance was required in an investigation on an alleged bribery of government officers in relation to the change of the receiving account for the concession proceeds from the Home Ministry (KDN) to the NERS's operation account instead of to the scheduled and sanctioned project account," he revealed.
"I cooperated fully. MACC did not show to me any evidence to support the allegation of bribery or corrupt practices."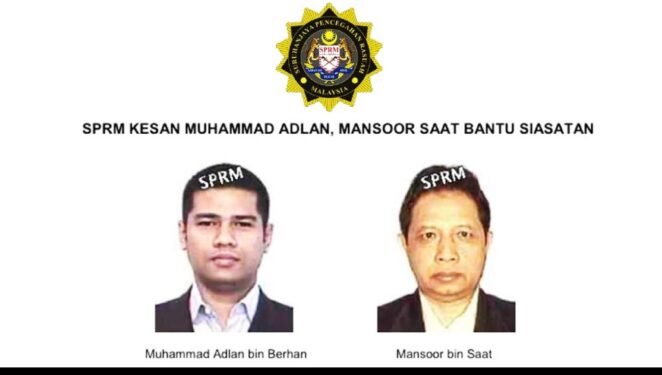 However, at the end of the three-day investigation, a senior officer of MACC came to Mansoor and persuaded him to transfer NERS' shares registered in his name to a new shareholder in S5 Systems Sdn Bhd which was NERS' operating company at the material time.
"It was impressed upon me that if I agree to the transfer, my ordeal will be over. A few days after the investigation, I received a letter drafted by S5 for me to effect the transfer of my shares in NERS to S5. It is obvious that what I am going through now is caused by my refusal to transfer the shares," he justified.
After regularly attending to his bail obligations, Mansoor said he left Malaysia in mid-May 2023 for a business trip, and in between, for a badly needed holiday break.
"I was subsequently contacted by the IO to whom I responded in writing by a letter dated June 3 stating that I was travelling overseas for business and would return once the business matters have been attended to. I have not received a formal reply from MACC," he revealed.
"Subsequently, the IO insisted on an urgent basis that I come back during the height of the political campaign for the Aug 12 six state elections even though I have stated that there was unfinished business which required my attention and that I would return in due course."
Following his refusal to come back before the state elections, Mansoor discovered that his personal bank accounts are frozen without notice and/cause while a travel ban has been imposed on his passport by the Immigration Department.
"My wife's personal bank accounts have also been frozen without notice and/or cause when she has nothing to do at all with the matter under investigation by MACC," he pointed out, noting that he "is also being harassed relentlessly by MACC officers with threats of vilification and character assassination".
While he will continue to render assistance in any investigation as required within the legal framework. Mansoor said he will not allow himself to be bullied into submission and "to part with my shares to benefit some corporate players close to some MACC officers".
"I state that I am being unlawfully implicated and now suffering as a collateral damage because of my business association with DS Muhammad Adlan Berhan."
In stating his innocence, Mansoor also lambasted the MACC for leveraging the media to influence public opinion of him as being guilty of some offences "and in the process, to shore up its flagging reputation or to appease the political dispensation".
"I am saddened that the MACC is being weaponised in such deplorable fashion. I have full faith in our judicial system to protect my constitutional rights. I will return to Malaysia to face prosecution if any, but I will not do so as long as I am being persecuted," he asserted.
"I am in consultation with my solicitors on the media statement as well as my next course of action, including for the launching of a suit against the MACC for the abuse of power and misfeasance in public office." – Aug 17, 2023