UMNO supreme council member Datuk Lokman Noor Adam has challenged two-time former premier Tun Dr Mahathir Mohamad to explain whether he had ever inherited substantial wealth from his late father that has enabled his four children to be billionaires today.
The four children are Datuk Seri Mukhriz Mahathir, Tan Sri Mokhzani Mahathir, MIrzan Mahathir and Datin Paduka Marina Mahathir (in no order of seniority).
Lokman has earlier taken a swipe at the country's longest serving PM who had demanded PM Datuk Seri Anwar Ibrahim to furnish evidence of Anwar's claim that he had siphoned the nation's wealth during his premiership of "22 years plus 22 months" which Anwar used as argument to counter his participation in the "Malay Proclamation" event which failed to lift off.
(Editor's Note: Dr Mahathir has earlier today given Anwar seven days to retract a claim that he had enriched himself and his family members while in power despite the latter not mentioning Dr Mahathir by name.)
"Making allegations is easy. But allegations that are not clearly proven cannot be accepted as true. It's a slander," Dr Mahathir has defended himself in a Facebook post. "I'm complaining now because the Malays have lost everything after I resigned as PM. Indeed, the Malays became so poor after I no longer was the PM."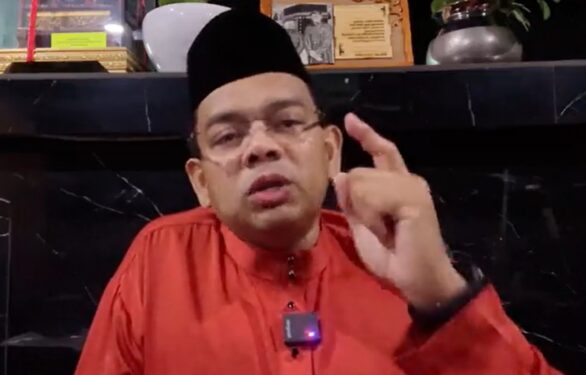 According to Lokman, the original wealth in Dr Mahathir's family pales in comparison to that of now incarcerated former PM Datuk Seri Najib Razak who might not have inherited his original wealth directly from his father Tun Razak Hussein but from his mother Toh Puan Rahah Noah.
This is given that she is the daughter of Tan Sri Noah Omar who "together with Tan Sri Lim Goh Tong were instrumental in establishing the Genting Highlands Resorts until the duo parted ways when the late Lim wanted to inject gambling business into Genting's operations".
"Dr Mahathir has made the dumbest statement in history by asking Anwar to furnish proof for every chicken, duck, goat and cow knows all four of Dr Mahathir's children are billionaires," chided Lokman who was only recently reinstated as UMNO's supreme council member.
"Although Tun Razak never abused his father-in-law's wealth to even build a residence in London, at least in Najib's case we know the channel of his wealth as opposed to the case of Dr Mahathir. To begin with, what was the occupation of his father?
"There are two versions … one version had it that he was a cendol seller and the other had it that he was a teacher … if the father was only a teacher and Dr Mahathir later opened his own practice Maha Clinic in Kubang Pasu in which he never charged exorbitant fees on his patients, it is mind-boggling how four of Dr Mahathir's children can be billionaires today?"
In this regard, Lokman advised Dr Mahathir not to engage in challenging Anwar who thankfully is not as "revengeful" as what the 98-year-old statesman did to embarrass Najib by deploying a big media troupe to record the confiscation of what was perceived to be ill-gotten wealth from Najib's residences.
"Imagine if the government of the day confiscate the properties or freezes the bank accounts of his children under AMLA (the Anti-Money Laundering, Anti-Terrorism Financing and Proceeds of Unlawful Activities Act 2001) like how he did to Najib, there will be truck-loads of luxury car collection to be towed away," he envisaged. – March 28, 2023
Main pic credit: Datuk Seri Mukhriz Mahathir's Facebook