CONTARY to claims of injustice levelled by certain quarters, the Malaysian Anti-Corruption Commission (MACC) has emphasised that the investigation carried out against several individuals regarding the Jana Wibawa programme is an initiative based on information and evidence obtained by the graft busting agency itself.
"The investigation papers that have been completed were then referred to the Attorney- General's Chambers (AGC) for proper study and consideration," MACC pointed out in a statement. "The investigation process is free from interference of any party."
Therefore, MACC claimed that the accusations that its investigation was instructed by certain parties and was politically-motivated were not true at all and has tarnished the reputation of this commission.
In his defence following the lengthy questioning-cum-recording of his verbal statement at the MACC headquarters in Putrajaya yesterday (March 9), Bersatu president and former premier Tan Sri Muhyiddin Yassin said he still came without coercion to facilitate the investigation even though to him, "this is political oppression and persecution against me and Bersatu".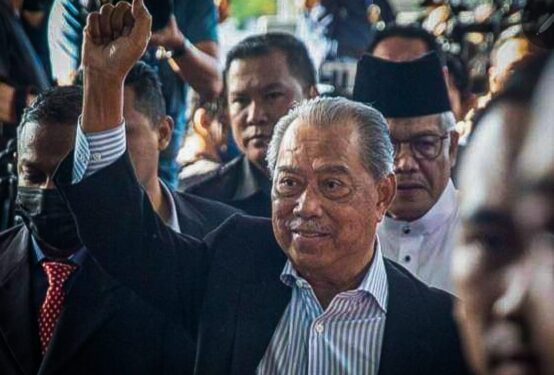 "Jana Wibawa is a project during the COVID-19 pandemic to rebuild the national economy, especially to prevent Bumiputera contractors from going bankrupt. But sadly, this is used as political capital as if the scheme is intended to rob money belonging to the country," the Bersatu president penned on his Facebook page.
"That is why the amount of the accused sum fluctuated from RM600 bil to RM530 bil then dropped sharply to RM92.5 bil, then dropped again to RM4.5 bil and finally RM300 mil. Using this slander, MACC froze Bersatu's bank account with the intention to destroy Bersatu. This is the evil of slander."
The Perikatan Nasional (PN) chairman further saw no wrong for corporate Tan Sri Syed Mokhtar Tan Sri Syed Mokhtar Al-Bukhary to make political donation/sponsorship to Bersatu "as a party that fights for good policies for the Malays and the country".
More broadly, Muhyiddin also described the legal action against him as a "selective prosecution" and a "malicious political act carried out by Pakatan Harapan (PH) and Barisan Nasional (BN), solely to paralyse and destroy Bersatu and PN".
"Anwar knows that PN has solid support from the people, especially the Malays and Bumiputeras, and will win big in the six state elections that will be held soon," added the Pagoh MP. – March 10, 2023