BIO ENECO Sdn Bhd, a leading home-grown biomass fuel developer, manufacturer and supplier, has achieved another milestone by incorporating the Philippines into its agreement with PT Orion APAC Indonesia (Orion), an international biomass fuel supplier and trader.
Initially, the agreement between BioEneco and Orion covered only two shipments of palm kernel shell (PKS) per month to Thailand for a three-year period starting from April 2020 to March 2024. Now, the Philippines is also included as a port of call.
A signing ceremony for this inclusion into the existing agreement was held recently at BioEneco's factory in Port Klang. BioEneco was represented by its managing director Oliver Yeo while CEO Max Marcus represented Orion.
"We are both encouraged and appreciative of Orion's confidence and trust in our products. Together, we trust we are able to expand our reach to cater to the needs of the biofuels industry in the region as well as globally," explained Yeo.
"This agreement will see BioEneco delivering a total of 204,000 metric tonnes of PKS to the Philippines and Thailand annually. This will further bolster the company's financial performance significantly in the next few years as well as enhance our reputation as a key player in the global green energy industry."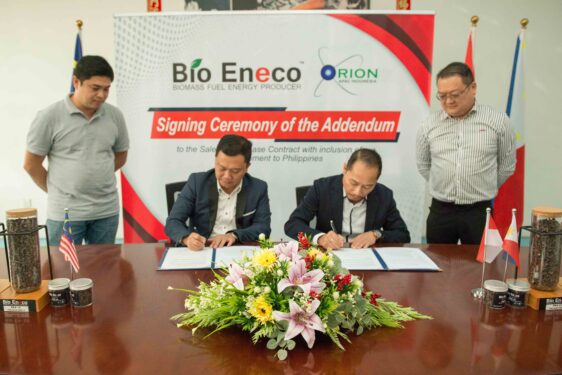 Established in 2011, BioEnoco has since grown its operations to become a key player as a developer, manufacturer, and supplier of high-grade biomass fuels. Its biomass fuel products include wood pellet, wood chips, PKS) and empty fruit bunch (EFB) as well as biomass energy solutions.
Meanwhile, Marcus said Orion is pleased to expand its current agreement with BioEneco as it has full confidence in the company's capabilities as a progressive high-grade biomass fuel energy producer to deliver on its contractual obligations.
"The global biofuel market has been growing exponentially over the recent years, driven by the ever-expanding demand for cleaner and more sustainable energy. We at Orion look forward to a long and fruitful partnership with BioEneco in the foreseeable future," he added.
A leading biomass fuel supplier in Southeast Asia with years of experience in dealing with multinational corporations, PT Orion business in trading/exporting biofuels has developed well in Thailand, the Philippines, Taiwan, Japan and Europe.
In addition to that, the company also engages in the business of shipping management through its own barges. – Sept 28, 2022