DESPITE having posted a solid trade performance for 2022, Malaysia exports are expected to soften in the months ahead.
Such tell-tale sign was reflected in its December 2022's exports of electrical & electronic (E&E) goods which moderated to single-digit year-on-year (yoy) with negative month-on-month (mom) growth which indicates a demand slowdown amid global recession fears, according to CGS-CIMB Research.
"In terms of overall trade, the World Trade Organization (WTO) projects global trade to taper down to 1% yoy in 2023 compared to 3.5% growth in 2022," observed senior economist Nazmi Idrus in an economic update.
"In fact, the recent WTO's Goods Trade Barometer index posted below-trend reading of 96.2 (normal trend at 100), reflecting cooling demand on traded goods."
Elsewhere, the OECD Composite Leading Indicators (CLIs) continue to signal a weak outlook in the OECD area and in most major economies (G20 countries: 98.2) while global PMI also maintained below expansion level at 48 in December 2022.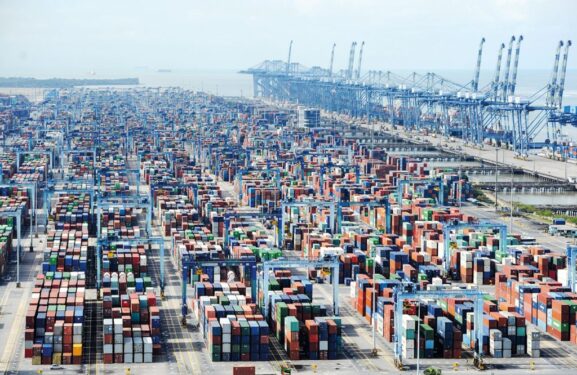 Moreover, the World Semiconductor Trade Statistics cautioned that the semiconductor market could contract by 4.1% in 2023 from growth of 4.4% in 2022. Overall, we expect Malaysia's GDP forecast to moderate by 4.4% in 2023 compared to an expansion of 8.4% in 2022.
In 2022, Malaysia's exports and imports posted second consecutive year of double-digit growth of +25.0% (2021: +26.1%) and +31.3% (2021: +23.3%), enabling another year of record trade surplus of +RM255.1 bil (2021: +RM253.7 bil).
Meanwhile, Maybank IB Research expects global real gross domestic product (GDP) growth to slump this year to +1.7% (2022E: +2.9%) amid stagnation/recession in major advanced economies – namely the US and Europe.
"We forecast slower 2023 exports and imports growth of +4.0% (2022: +25.0%) and +6.0% (2022: +31.3%), resulting in narrower trade surplus of +RM240 bil (2022: +RM255.1 bil)," projected the research house.
Bolstering 2023's slower growth trajectory is the expected firmer growth of China as the country exits its zero COVID-19 policy and re-opens (which is expected to benefit bilateral trade) as well as the mixed outlook for the average prices of major export commodities, ie sustained US$100/barrel for crude oil.
This is despite a lower forecast of RM3,400/metric tonne (MT) for crude palm oil (CPO) (2022: RM5,115/MT).
"Risk to our forecasts is 'binary', ie downside from deeper and longer recession in major advanced economies vs stronger-than-expected China's growth from its re-opening," added Maybank IB Research. – Jan 19, 2023