IT IS often said in the information technology (IT) realm that you need to hire a hacker to 'unhack' or better understand the mind of his fellow hackers.
In the same light, it is interesting that Datuk Dr Marzuki Mohamad (main pic, left) who was the former political aide to eighth prime minister (PM) Tan Sri Muhyiddin Yassin has shared the so-called nine-step modus operandi by the power that be to implicate its political opponent with graft charges.
Step 1: Spread fake WhatsApp.

Step 2: Lodge a police/MACC (Malaysian Anti-Corruption Commission) report based on fake WhatsApp.

Step 3: Police/MACC open investigation papers.

Step 4: Remand order.

Step 5: Mainstream media take photos/videos of the person remanded.

Step 6: The mainstream media report that the remanded person is being investigated by repeating the facts contained in the fake WhatsApp.

Step 7: The mainstream media amplifies perception that the fake WhatsApp is trying to create.

Step 8: The creator of fake WhatsApp spread stories that his fabricated revelation is now being recycled by the mainstream media.

Step 9: It doesn't matter whether this is right or wrong. Job done!
​"In essence, the story created by the person behind the fake WhatsApp (I call him a 'political villain') will be investigated by the police/MACC, studied by the AGC with the possibility of prosecution made with flimsy evidence, the case heard by the court, and reported and repeated by the mainstream media," Marzuki penned in a recent Facebook post
"The 'political villain' who initially spread the fake story via WhatsApp can now viralise the same fake story which he made up as a 'credible news piece' for it has now been reported by the mainstream media."
For context, Marzuki's revelation came on the back of viral messages stating that Putrajaya MP Datuk Dr Radzi Jidin has allegedly received RM80 mil from a direct negotiation involving the printing of J-QAF (abbreviation for Jawi, al-Quran, Arab and Fardu Ain) book from the publisher in which his wife is a company proxy.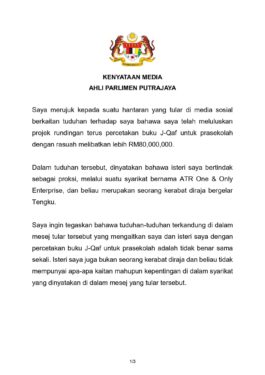 Recall that the Bersatu vice-president was recently ejected from the Dewan Rakyat after getting embroiled in a heated exchange with Prime Minister Datuk Seri Anwar Ibrahim who was addressing the DNAA (discharge not amounting to acquittal) granted to Deputy Prime Minister Datuk Seri Ahmad Zahid Hamidi.
"Whether we realise it or not, our country from top to bottom is actually being controlled by high-class political crooks with low-class mentality," claimed Muhyiddin's former principal private secretary.
"Tired to be in this situation … I just hope that media bosses and bosses at government agencies have a little spine. It's true that you serve the government of the day. But the current government of the day may not necessarily be led by the same person tomorrow."
Marzuki who claimed to be a political scientist further advised: "You have nothing to lose if you do your job professionally. You will be more respected by the people and leave a legacy that you can be proud of. After all, our lifespan in this world is not long." – Sept 27, 2023