IT'S BAD news for Malaysians or expatriates who travel across the Causeway for work in Singapore in their own vehicles as there is a hike in the Certificate of Entitlement (COE) prices for all vehicle categories (except for motorcycles).
Given the many thousands who rely on two-wheel transport to get to work in the island republic, it would have been a great relief that they were spared from additional charges.
But motorists who drive will be hard hit as the number of COEs available were well below the demand. According to the Malay Mail, a total of 2,722 bids were received with only 1,933 COEs available.
Those driving vehicles with larger engine capacities would be worst hit. Large cars (above 1,600cc or 97kW) or fully electric cars with output over 110kW also saw premiums climb from the previous high of S$129,890 (RM445,032)* to S$134,889 (RM462,185).
In the Open category which can be used for any types of vehicles except motorcycles, premiums increased by 4.58% to S$137,000 (RM469,364).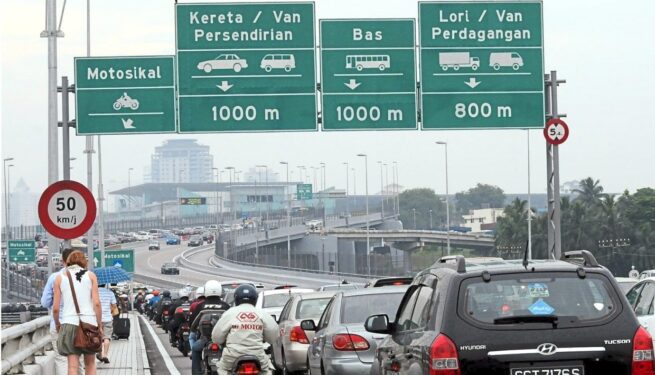 Meanwhile, premiums for small cars (up to 1,600cc & 97kW) or fully electric cars with output of up to 110kW rose to S$101,000 (RM346,014) from S$100,000 (RM342,615) in the previous bidding exercise.
Those utilising public transport to get to work in Singapore should face no extra charges. COE prices for goods vehicles and buses inched up by 0.11% to S$82,889 (RM284,007). The good news here also extends to two wheel vehicles as premiums dropped to S$10,901 (RM37,353) compared to S$11,402 (RM39,069) in the previous bidding exercise for the motorcycle category.
NUMBERS AT A GLANCE:
Category A (Cars up to 1,600cc & 97kW or fully electric cars with output of up to 110kW): S$101,000/RM RM346,014 (up from S$100,000/RM342,615)
Category B (Cars above 1,600cc or 97kW or fully electric cars with output over 110kW): S$134,889/RM462,185 (up from S$129,890/RM445,032)
Category C (Goods vehicles and buses): S$82,889/RM284,007)  (up from S$82,801/RM283,687)
Categroy D (Motorcycles): S$10,901/RM37,353 (down from S$11,402)/RM39,069)
Category E (Open category): S$137,000/RM469,364 (up from S$131,000/RM448,861)
* Exchange rate is approximation to serve as a guide only