MUDA has reached an internal consensus to contest in the upcoming polls in six states on its own even if such decision pits the party on a collision course with Pakatan Harapan (PH) and Barisan Nasional (BN) which together spearhead the unity government.
Whether it is able to survive the onslaught of PAS' youth-dominated 'green wave' is as good as anybody's guess yet MUDA's president and co-founder Syed Saddiq Syed Abdul Rahman, has made it clear that the party has no intention to hurt the unity government's chances in the state elections by splitting the votes.
"We already had enough of politics of fear-mongering … this should end as we shouldn't be using fear-mongering tactics to justify incompetence, complacency and arrogance," he told a media conference in Kuala Lumpur.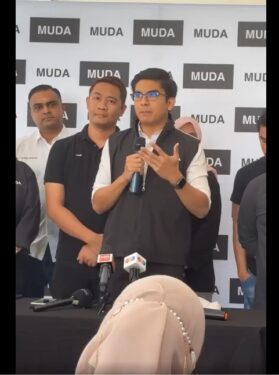 The Muar MP and MUDA's sole representative in Dewan Rakyat further alluded to the delay by PH in responding to MUDA's application to join the coalition.
For the record, MUDA had applied to join PH before the 15th general election (GE15) last November but there was no breakthrough has despite MUDA and PH having agreed on an electoral pact for GE15.
However, Syed Saddiq also denied that MUDA had decided to contest the state elections alone due to failed seat discussions with PH.
"There will be questions as to why MUDA which is regarded as very much a novice party wants to contest in the upcoming state polls … Founded on the platform of new politics, MUDA can today speak with our own voice," justified the former youth and sports minister during the short-lived PH administration.
"We can enter the state election with the voice of conscience … we want to ensure promises of various reforms (as laid out during GE15) implemented instead of being viewed as an isolated bloc but centre path to prevent hyper partisanship to pollute the mind of Malaysians." – June 26, 2023
Main pic credit: Malaysiakini