IF THERE is one lesson to learn from yesterday's (Feb 28) uproar in the Dewan Rakyat which stemmed from a provocative Budget 2023 debate speech by Pakatan Harapan's (PH) Kota Melaka MP Khoo Poay Tiong, it has to be that former premier Tan Sri Muhyiddin Yassin will fight all the way to prove his innocence over any graft allegations levelled against him and his family.
Having lost his patience that the matter has been incessantly brought up in the august house, Muhyiddin said he would not hesitate to take legal action against those who had accused him of awarding projects to his son-in-law.
"These allegations are heavy, directed towards my family and I. If you say that it has been reported in the papers, we also know that there is fake news out there," the New Straits Times quoted the Bersatu president as saying when he stood up to intervene following the ensuing commotion.
"I am stating clearly that I won't hesitate to take legal action as it involves my family's dignity."
Khoo had implicated the Bersatu president and Pagoh MP by claiming that the allegations include the RM7 bil Jana Wibawa project, the RM15 bil flood mitigation project and the RM1 bil National Integrated Immigration System (NIISe) project which was given to Muhyiddin's son-in-law Datuk Adlan Berhan.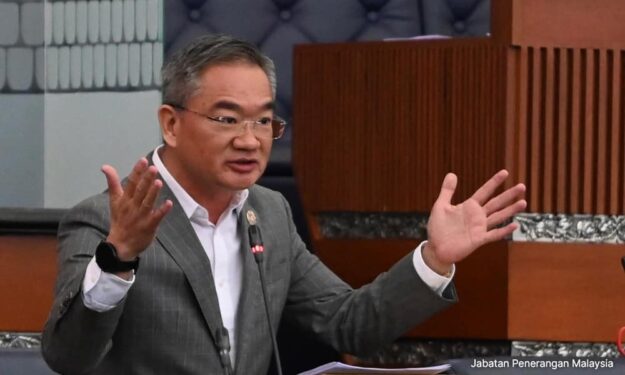 "Everyone in Malaysia knows about this, it was reported in the newspapers that the Malaysian Anti-Corruption Commission (MACC) is investigating Pagoh's (Muhyiddin's) son-in-law," the two-term Kota Melaka DAP MP pointed.
"Pagoh, (you) can check the earlier hansard. Some politicians claim to be 'clean and stable during general elections'."
For the record, Khoo had earlier sparked a furore from opposition MPs, including Opposition leader Datuk Seri Hamzah Zainudin who challenged him to repeat his statement on Jana Wibawa and threatened to take legal action.
Meanwhile HarakahDaily reported the Perikatan Nsional (PN) chairman as describing media reports on his involvement in corrupt practices as "fake news".
"I sat patiently listening to the accusations made by Kota Melaka. I have already explained (everything) the day I spoke the last time. If I'm not mistaken, YB of Jelutong stood up and so did the YB of Ipoh Timur," the PAS mouthpiece cited Muhyiddin as saying.
"But if you want to ask me (again), I want to tell you clearly here that the allegation pertaining to NIISe is not true in that the selected tenderer determined by the selection committee in the open tender is not a company owned by my son-in-law but a wholly owned subsidiary of Iris Corp Bhd."
To restore order, Dewan Rakyat Deputy Speaker Alice Lau Kiong Yieng later asked Khoo to retract the part of his statement implicating Muhyiddin.
"You can say any party, but don't mention Pagoh. Retract your statement first and then re-phrase it," she ruled. "If anyone wants to challenge his (Khoo's) statement, take it outside," she told other MPs, citing the Dewan Rakyat Standing Order 36(6) on the contents of speeches. – March 1, 2023