AN Utusan Malaysia article featuring 500 durian growers without land grants in Raub unanimously rejecting what is deemed as 'lopsided' terms of legalisation scheme company Royal Pahang Durian Resources PKPP Sdn Bhd (RPDR-PKPP) has sparked a 'boil over furore' among netizens.
Among others, the article which garnered 8,500 likes, 8,800 comments and 905 shares at the time of writing accused the relevant authorities of kowtowing to the demands of the 'illegal' and 'ungrateful' planters whom they alleged have encroached into state government lands in the first place.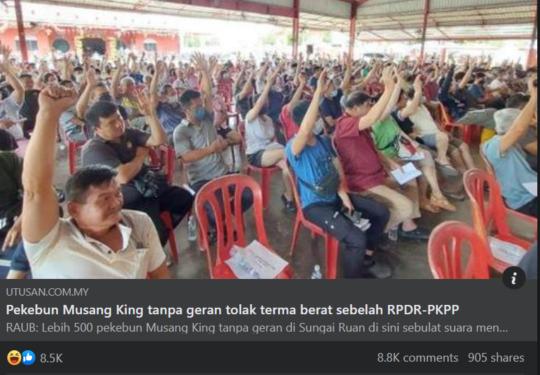 Recall that a Musang King durian planting area in Batu Talam which covered an area in excess of 101 hectares involving about 15,000 trees was cut down as planting was done in a permanent forest reserve on July 3, 2021.
Netizen Mohd Shahrom Shahril fumed that those "land pirates" who invaded land belonging to the rakyat are given face when "people who want to do business on the roadside are completely robbed and denied their rights of doing so".
A more rational Anas Abd Jalil is of the view that it would be fine so long as the planters cultivate their durian trees to satisfy the country's food needs but alas, they are growing durian for export.
"More so, selling (the durian) expensively to local people, obviously so much self-interest self-important," he opined.

For context, chairman of the Save Musang King Alliance (SAMKA), Wilson Chang, had said that although the RPDR-PKPP claim that the terms have been improved, the overall proposal is still one-sided such as setting a fixed price that is far cheaper than the market, hence forcing growers to sell all their durians to the company whose factory has yet to be built.
"Growers are also willing to pay a land tax rate that is 20 times more than the tax rate set in the Pahang State Gazette 2019. They are also willing to pay the annual cost of environmental preservation to create a durian industry and a sustainable environment," he explained after a recent gathering of growers without grants in Sungai Ruan, Raub.
Chang further noted that SAMKA was also upset because RPDR-PKPP chose not to send a representative to its gathering through an official letter from the latter's law firm.
"RPDR-PKPP has never organised a town hall session with the durian planters nor interested in sitting down for a dialogue session. It is clear that the private company does not intend to achieve a win-win solution with the growers but only focuses on profiteering," he added.
On Jan 27, Pahang Menteri Besar Datuk Seri Wan Rosdy Wan Ismail had in a statement advised Musang King growers in Sungai Ruan, Sungai Chalit, Sungai Klau and Tranum in Raub who were involved in a judicial review application at the Kuantan High Court to re-consider whether to proceed with their judicial review application or otherwise.
Wan Rosdy was reported to have said that the state government is of the view that the disputed lands are proprietary rights of the state government and that cannot be denied even in the context of equity.
What is certain is that the Federal Government may need to intervene as a peacemaker before the issue spill-over into a racial issue or being politicised by unscrupulous parties.
As feared by netizen Ferdrolee Azedyan, allowing a bargain for the growers to plant durian will eventually see the cultivated land "being pass down to their grandchildren and years later, houses and settlements will sprout, and it's not impossible that they will become a new city/town in the future".

Or Suf Usop Sop's call for Prime Minister Datuk Seri Anwar Ibrahim to intervene "and not to just overlook the matter". – Feb 5, 2023