THE term "fascinating" alone will be an understatement to describe incarcerated ex-premier Datuk Seri Najib Razak's influence in the cyberspace.
Given that prison inmates are being deprived of telecommunication devices while serving their jail sentence – and no special treatment is accorded to the Pekan MP either – it is no wonder that his court cluster ally and UMNO president Datuk Seri Ahmad Zahid Hamidi described Najib as a "social media king".
Even as his entire being is now confined behind bars in the Kajang Prison – except for occasional commute to the Kuala Lumpur General Hospital (for tummy ulcer and fluctuating blood pressure thus far) – Najib's Facebook page continues to generate unimaginable number of hits.
His team of admins – probably working in cahoots with his filial daughter Nooryana Najwa Najib, political aspirant son Datuk Mohd Nizar Najib and 'man-of-the-house-cum adviser' wife Datin Seri Rosmah Mansor – are still melting the hearts of his 4.6 million followers every time a new posting appears.
Hats off to these people for their mastery of blending the art of psychology, social media, cinematography and digital marketing to appeal to the sympathy of lay people.
A quick glimpse at the 28 Facebook postings uploaded onto his page since Aug 23 when he first checked into his temporary Kajang dwelling showed that Bossku's (Najib's moniker) influence among his 4.6 million followers is far from dwindling (assuming that there are no post-boosting or cybertroopers working behind the scene).
Even after three courts – the High Court, Court of Appeal and the Federal Court – have found Bossku guilty of embezzling funds belonging to 1MDB unit SRC International Sdn Bhd, it is mind-boggling  to know that there are many people who are still in denial over Bossku having inflicted 'collateral damage' to his country's economy and wealth.
To people who are beholden to him in one way or another or charmed by his charisma of sorts, the 12-year jail sentence and RM210 mil fine meted out on Bossku will always be seen from the lenses of a "miscarriage of justice".
Imagine the latest posting of Bossku's deteriorating health condition stemming from a change of medication posted a mere 15 hours earlier (as at time of writing) having garnered 31,000 likes, 6,600 comments  and 431 shares.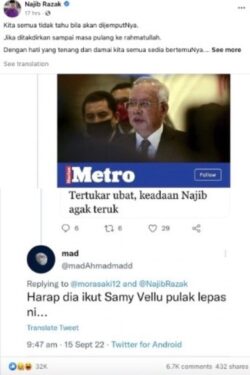 Even his beautifully-worded heartfelt condolences on Sept 9 to the British royal family over the demise of Queen Elizabeth II by recalling her visit to Malaysia and her graciousness as host during past engagements managed to rake in 44,000 likes, 3,600 comments and 639 shares.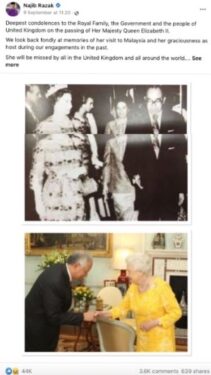 But nothing can beat the posting bearing the photo of Bossku having some fun time with his grandchild on the day he was jailed (Aug 23). Addressed to his children and grandchildren, the post depicting his profound sacrifices to his motherland generated 245,000 likes, 35,000 comments and 15,000 shares.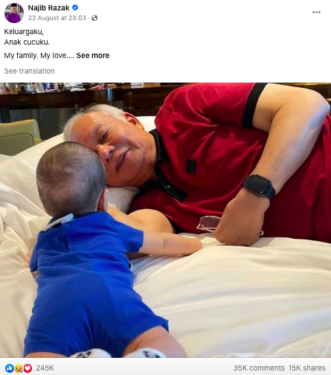 Or that of 'Uncle' Alias Yahya, his former security guard of 32 years who stood by to watch a convoy of police wagons transporting Najib to the Kajang Prison passing by (79,000 likes, 5,000 comments and 738 shares).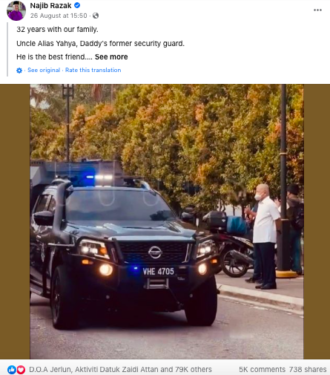 Or that of his pet cat, Kiky, missing him (posted by Nooryana on Bossku's behalf) (117,000 likes, 13,000 comments and 1,400 shares). – Sept 16, 2022