PAS president Tan Sri Hadi Awang is not only a gifted orator by also a prolific author as evident in the unveiling of his latest Malay language book Di Sebalik Tembok Islamofobia (Behind the Wall of Islamophobia).
According to publicity material made available on his Facebook (FB) page, the book was written in response to provocations and misunderstandings against Islam.
Among others, it attempts to describe the thought attacks on Muslim thoughts carried out by the enemies of Islam either through the spread of misleading ideology or through the fear of Islam a.k.a. Islamophobia.
"The book is actually a study and personal experience of the author as a leader of the Islamic movement and his involvement in global issues," penned the cleric-cum-Perukatan Nasional (PN) deputy president in a FB post.
Priced at RM35/copy (now Merdeka Day promotion at RM31/copy), Hadi listed the following three appealing reasons to obtain a copy of his book:
Deep critical and critical writing to unravel secular & liberal understanding.
Written through his personal experience as a leader of the Islamic movement, he has strived to comment on complex issues of thought carefully so as to bring forth a message that is easy for the general public to understand.
Careful selection of book features in terms of neat fonts and high-quality Premium Ivory paper to improve the reader's reading quality.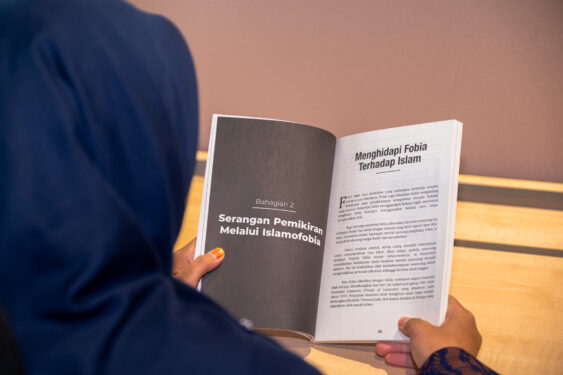 Probably Hadi must send a copy of his book for review by retired DAP supremo Tan Sri Lim Kit Siang for the duo have engaged in numerous assaults between themselves over the subject of Islamophobia.
Trading barbs on June 1, the DAP veteran had denied allegations made by Hadi of him being "anti-Islam" and "promoting Islamophobia".
Comparing himself to Saudi Arabia which had once listed Hadi in its terror list, Lim asserted that criticising the Marang MP does not equate to being "anti-Islam".
"I may be anti-Hadi unless he changes his ways but to call me anti-Islam and promoting Islamophobia is like calling Saudi Arabia anti-Islam and promoting Islamophobia for banning Hadi and describing him as akin to a terrorist," Kit Siang lashed out in a statement.
"I still remember Hadi slamming Saudi Arabia five years ago as among the Gulf states like Egypt, the UAE (United Arab Emirates) and Bahrain, for believing more in Zionists than in Allah and Islam when the quartet of Gulf States added the IUMS (International Union of Muslim Scholars) and International Islamic Council to its terror list." – Aug 22, 2023