THIS year's Hajj season drew 1,845,045 pilgrims from 150 nations, according to Saudi Minister of Haji and Umrah Dr Tawfig Fawzan Muhammed Al-Rabiah.
Al-Rabiah highlighted at a media conference held at the ministry's camp at the Arafat Site today the tireless efforts of the ministry's field teams and partners in providing comprehensive services to ensure a tranquil and peaceful Hajj experience for all pilgrims.
Despite such effort by the Saudi Hajj authorities, things are in fact not looking up for Malaysian pilgrims when they arrived at Mina from Muzdalifah around 3am Saudi Arabia time today.
In fact, there has been a delay for the pilgrims to perform the 'stoning of the devil' ritual due to a lodging hiccup.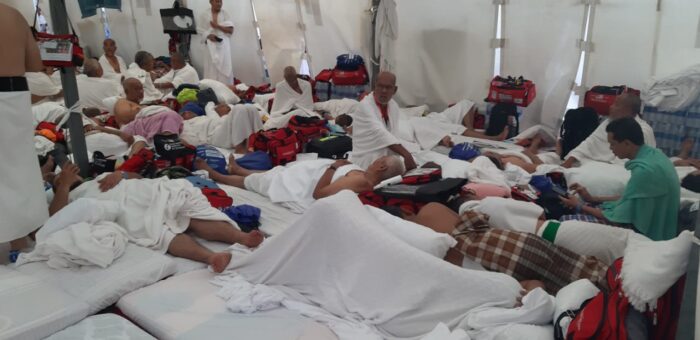 Above all else, the lodging provided by Tabung Haji (TH) for Malaysian pilgrims is insufficient to accommodate them.
Claims have been made that TH attempted to cramp 44 people into a tent that can fit roughly 34 pilgrims. This eventually 'forced' the pilgrims to share their bed when one bed can barely fit one person as can be seen in the video above.
Apparently, the pilgrims will have to make do with this predicament for two nights beginning today. "There is insufficient space in the tent to accommodate so many pilgrims. At the end of the day, we live like homeless people. Complaints have been made but no action has been taken by TH," a source told FocusM.
"In fact, their officer asked us to accept the situation as this is the only space that they can provide. By right, they should have arranged for the right amount of space instead of squeezing 43-44 people in the space meant for 33-34 people."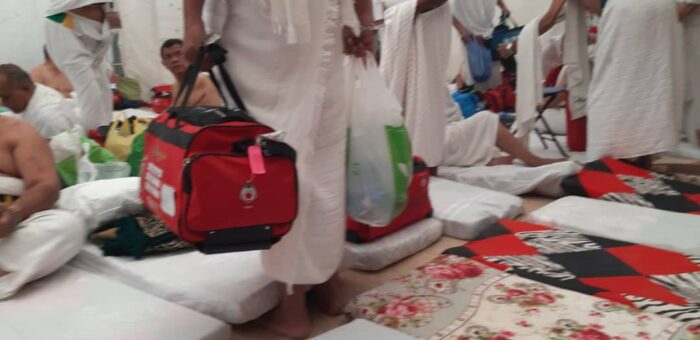 The photo above illustrates an initiative taken by pilgrims to look for whatever available space within the tent.
Furthermore, the source also claimed that TH is not going to take any action on this matter. "We just barged in with no help from TH. There are still individuals outside who don't have a place to stay."
Due to a lack of adequate accommodation, several pilgrims requested a TH bus to transport them back to the hotel and to return tomorrow (June 29) for the 'stoning of the devil' ritual.
However, TH informed the pilgrims that they would have to bear the expenses themselves. The source also likened staying in the tent to taking "a sauna bath with no air conditioning".
"This tent is not meant for accommodation. The TH officers don't bother to come and supervise the condition of the pilgrims especially the elderly," added the source. – June 28, 2023