Letter to Editor
THE social media is now flooded with posters showing the number of cases in the past where the accused were discharged without amounting to an acquittal (DNAA).
Although these cases can still proceed once the prosecution obtains more solid evidence, discharge amounting to acquittal (DAA) cases mean the accused will go scot-free.
Whether one likes it or not, a lot of time would have been spent on each court case, so what's the difference between Zahid's case and the other cases?
Why did the same critics who came forward recently not attack the then prime ministers (PMs) for each of the cases, for example, that were discharged during Perikatan Nasional's (PN) era between 2020 and 2022?
There is now no reason for former UMNO Youth chief Khairy Jamaluddin (KJ) to add to the ongoing debate by suggesting that freeing jailed former premier Datuk Seri Najib Abdul Razak move "would help the unity government combat the rising green wave influence".
Shooting his own foot
KJ is shooting his own foot. In Najib's case, he is a convict with a jail term of 12 years. His case involves the international community and should Najib seek for clemency, the royal pardon will have to take into account the gravity of the case and its impact on the country's international reputation.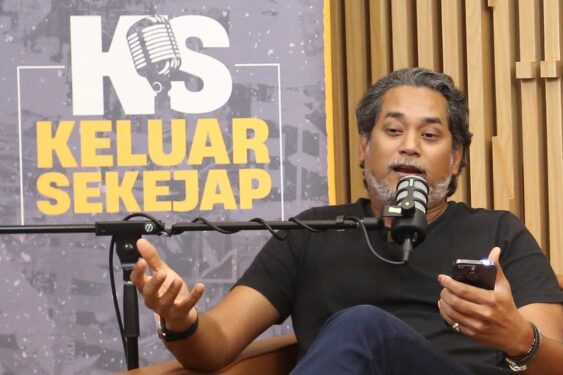 A royal pardon is not easy to grant unless the person has proven to be of good character. For that reason, it is too premature to even push for Najib's release.
Even if UMNO were successful in pushing for Najib's royal pardon, it is always a decision involving a number of parties.
The appeal has to be submitted to the Pardon Board before it goes to the Yang Di-Pertuan Agong for final approval prior to clemency being granted. Often, the process would take many years.
Obviously, KJ is bitter that he was not allowed to contest in his safe seat of Rembau but made to contest in Sungai Buloh where he lost to a debutant MP during last November's 15th General Election (GE15).
What about Syed Saddiq?
I wrote about it in a Letter to the Editor yesterday (Sept 6) under the heading "Malaysians welcome the new government in Malaysia!"
Although I think he, like KJ is prime minister material, Syed Saddiq Abdul Rahman is again playing the same game of punching the DAP for being the lapdog to Barisan Nasional (BN) chairman Datuk Seri Ahmad Zahid Hamidi.
There is then no difference between the MUDA president and the other political parties that have often made DAP their punching bag.
If DAP were Zahid's lapdog, why did Syed Saddiq attend the launch of its veteran (now Tan Sri) Lim Kit Siang's biography "Lim Kit Siang: Malaysian First" on Jan 11, 2022? Is Syed Saddiq then a lapdog of the lapdog to Zahid?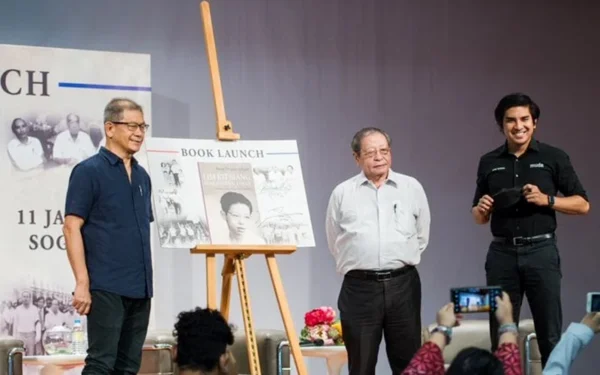 What about the friendship between Syed Saddiq and Segambut MP Hannah Yeoh? Is he saying that Yeoh is also a lapdog for Zahid? And me, who was literally supporting MUDA to win some seats in Selangor during the recent six state polls also lapdog to Zahid just because I came in defence of the DAP?
Being a new party without an adequate support base since its inception, MUDA should first recruit candidates who will get close to the people. A lot of people are unhappy with Bandar Utama state assemblyman Jamaliah Jamaludin.
For a while, I have been encouraging MUDA's Bandar Utama candidate Abe Lim to join a chat group where she can show that she is a better candidate than Jamaliah but till today Lim has never even bothered to give an answer.
Not even a 'thank you' note or a brief explanation why she is unable to join. With Syed Saddiq's latest drama, now I see why there is no point for me to give her full support in five years' time? No way!
The saying goes that 'snobs will get the snub back from their voters'.
Posters make a good point
Notwithstanding that some of the statistics in the posters may be flawed, these posters on social media make a good point.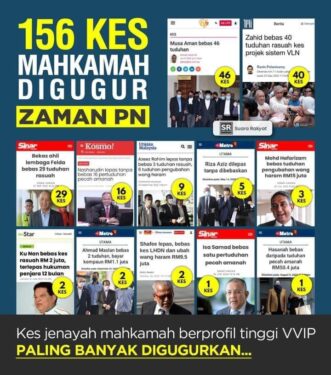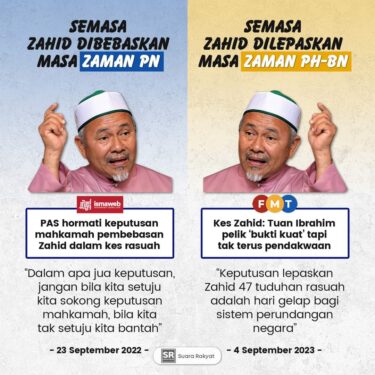 DNAA and DAA are common practices in the court process. If there is any dissatisfaction, the lawyers should just focus on changing the age-old process.
Meanwhile, it is obvious to me that the chorus appears to be one grand choir orchestrated by the hidden hands of the conductor even if the singers themselves may not know who the choir master is. The timing was just right in favour of PN's position to win the two by-elections in Johor. – Sept 7, 2023
Stephen Ng
Kuala Lumpur
The views expressed are solely of the author and do not necessarily reflect those of Focus Malaysia.