Letter to editor
WHILE the Bank Negara Telelink is doing a good job in rectifying customer issues involving banks, insurance companies and other financial companies operating e-wallets, I find it shocking how bad the customer service of these companies are.
I am sure many readers will resonate with me, and I hope more people will take the trouble to write to the media so that such issues will cause some faces to turn red when they realise how their organisations fare with their customer service.
Most service-oriented companies these days will only publish their customer service e-mail address and the toll-free number which will allow only the customer service department to pick up the calls.
Over several months during the movement control order (MCO), I had a few problems related to my life and medical insurance policies. It took me numerous e-mails before Bank Negara Malaysia (BNM) stepped in and applied pressure on the insurance company concerned to solve the problem.
The solution was not that difficult but I could see that the insurance company was trying to make it difficult for me to renew the policy that had lapsed without my knowledge. Or provide a good solution even as I kept paying the premium despite knowing that it was a "disappearing premium option" (DPO).
This was also not a fault of my own as I had submitted my form for change of my credit card, but the company failed to revert to me even though there was just one piece of information.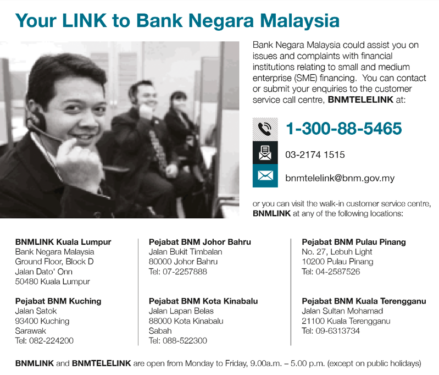 This so-called American company founded by an American gentleman in Hong Kong did not even have the courtesy to include its general phone line on its website so that customers have an alternative number to contact if they are unhappy with the customer service.
Telelink Bank Negara has the record of the insurance company and would know the full story.
E-wallet monopoly
My other two bad encounters with an e-wallet company should also be mentioned here especially since it has monopolised the entire market by having a number of car parks in shopping malls and toll plaza using only their card.
I was using the Damansara–Puchong Expressway (LDP) toll when I realised that I was overcharged by RM2.10. This was probably a technical glitch but I wanted to see how the company responded to my complaint. To my horror, I was asked in several e-mails to provide a whole long list of items for RM2.10.
When I finally brought it to Bank Negara Telelink, they finally refunded the amount after another couple of weeks of follow up.
Just today, I decided to call the company over a second issue that I had written several times to their customer service department. There was no answer from the customer service.
And, just for someone to pick up the phone, it took more than 20 minutes of waiting time. The next one hour or so was to repeat myself again and again.
What was most frustrating was when the customer service agent going by the name Siva told me that his supervisor said that I could not change the identity on the e-wallet which carried the ID, TOAIC.
Often, my friends had to ask what TOAIC is. Imagine such an inconvenience of having to respond to friends who wanted to transfer money to me and wanting to make sure it was my account.
Later, he told me that he will change the name but it must follow the IC name. Of course, I would not take this for an answer because not many people know my IC name.
When I asked to speak to the supervisor, he told me that the supervisor would give the same answer and she was not available to speak to me.
It is time that the central bank should dismantle the monopoly with this one e-wallet provider by making it mandatory for all companies to install meter readers to allow people to use different payment cards.
Similar monopoly and excuses were also used by telecommunication companies in the past that made it difficult to change the service provider. To change the service provider, we were told that we had to change the phone number as there was no such thing as porting in and porting out.
Often, it would also mean several days without access to the mobile number. But now, it is possible to port out if we are unhappy with the service of one telco and port into another company.
Unless monopoly is dismantled, our local service providers in the financial sector will not bother about improving their customer service.
Therefore, I urge you as the central bank governor to do something to regulate the financial industry further in terms of how they deal with their customers. – Jan 21, 2023
Stephen Ng
Kuala Lumpur
The views expressed are solely of the author and do not necessarily reflect those of Focus Malaysia.