WHETHER credit is due or it is just a feel-good assumption, PAS deputy president Datuk Seri Tuan Ibrahim Tuan Man has claimed that Yang di-Pertuan Agong (YDPA) Sultan Abdullah Sultan Ahmad Shah has acknowledged the outstanding achievements of the previous Perikatan Nasional (PN) administration.
The two-term Environment and Water Minister said the King recognised contribution by the 17-month PN government helmed by its chairman and Bersatu president Tan Sri Muhyiddin Yassin which was eventually succeeded by the Keluarga Malaysia government under the leadership of Datuk Seri Ismail Sabri Yaakob.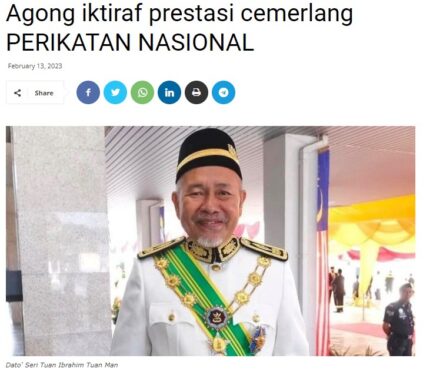 "The data mentioned by His Majesty the King was the result of the successes of the previous government which turned out to be excellent," the Kubang Kerian MP told PAS mouthpiece HarakahDaily.
"All the achievements presented represent the successes of the previous government/s and they are tangible evidence as stated by Tuanku. On the contrary, the Pakatan Hatapan (PH)-Barisan Nasional (BN) government) that has only been in place for two months now has nothing to show."
Tuan Ibrahim was referring to the royal address by Sultan Abdullah when opening the Second Term of the 15th Parliamentary Council yesterday (Feb 13).
In his royal decree, Sultan Abdullah mentioned, among others, that the country had recorded exports worth RM1.552 tril in December 2022 which was a 25% jump from the same period in 2021.
According to His Majesty, such achievement has exceeded the country's total export target three years earlier than what was targeted under the 12th Malaysia Plan (12MP) which is RM1.2 tril by 2025.
In addition, the agricommodity sector also makes a significant contribution to the country's gross domestic product (GDP), national export income and the development of rural communities, especially towards reducing the income gap and the poverty rate.
"For the period from January to September 2022, this sector has contributed as much as RM61.3 bil which is 5.5% of the entire GDP," he added. – Feb 14, 2023