PAS wants those who attempted to antagonise the Muslim community by politicising the recent Islamic heritage parade in Terengganu to be prosecuted.
Those who claimed that such event is aimed at promoting violence or directed at causing unease among the non-Muslim community has committed a very dangerous act because it can cause break-up in the community, according to the Islamist party's central working committee member Datuk Iskandar Abdul Samad.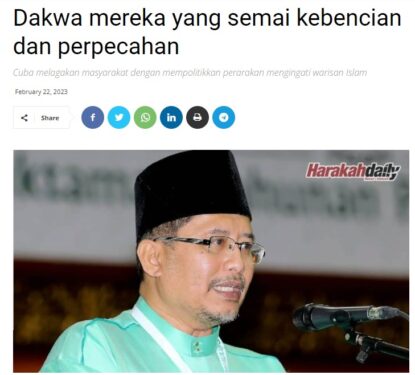 "Their actions can also sow feelings of hatred towards Islam and should be prosecuted to prevent them from repeating similar action," the PAS national treasurer penned his thought in the party's mouthpiece HarakahDaily.
"The parade is simply to commemorate the Islamic heritage and the practice of commemorating the heritage of any culture, race or religion is not a foreign thing."
For context, peace-loving Malaysians were left speechless over the weekend, no thanks to the antics of intimidating mediaeval Islamic war costumes-clad Terengganu PAS Youth members marching on the streets armed with fake swords, spears, and shields.
Terengganu PAS Youth chief Mohd Harun Esa has defended the parade as part of a two-day PAS Youth "Himpunan Pemuda Islam Terengganu" (HIMPIT) gathering.
On Monday (Feb 20), PAS central committee member Nasrudin Hassan Tantawi has criticised Muslims who opposed the event as being paranoid by showcasing the extreme fear of Islam.
However, president and CEO of independent think tank EMIR Research Datuk Dr Rais Husin called on the government to ban the frivolous politicisation of Islam.
Iskandar went on to reveal that when he was the Exco of the Selangor State Government and also an assemblyman from 2008 to 2018, he often witnessed heritage shows of various races or cultures that involved the use of weapons – whether real or replicas.
"However, I don't feel threatened but instead feel that it was an opportunity to understand the heritage of other races and cultures," he reminisced.
"There are shows that are held in the open like the Islamic heritage parade but they don't trigger annoyance among the locals from other races. In a multi-racial society like Malaysia, we should be open and try to understand each other." – Feb 22, 2023