JAN 24 was exactly two months since Datuk Seri Anwar Ibrahim became Malaysia's 10th Prime Minister (PM).
After the first month has passed, Anwar was seen trying to restore his image by building the people's confidence in him with populist actions. On the second month, Anwar began to propose a national model that he wanted to highlight.
As expected, Anwar has refreshed the national model that he had previously conceived, namely Negara Madani (civil state). He has outlined some rough framework to make Malaysia a civilised nation.
The idea of a Civil Malaysia put forward by Anwar has been welcomed by many parties, including fellow component parties Pakatan Harapan (PH) and Barisan Nasional (BN) in the unity government.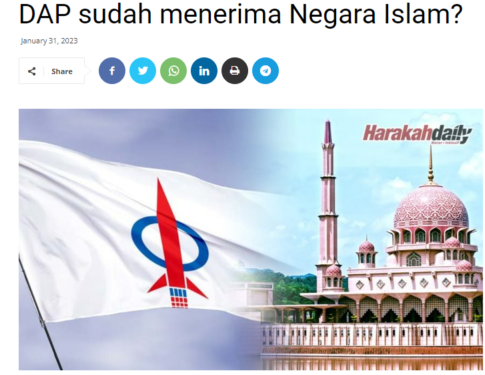 The question that should be raised is do all the PH component parties as well as the unity government partners understand the idea of a Civil Malaysia that was espoused by Anwar? This is because when introducing the idea of Malaysia Madani, Anwar did not fully explain the concept.
It could be that Anwar does not want them to understand it because he is worried that some component party partners would not agree after knowing the true concept of Madani.
But the truth is that the Madani concept refers to the construction of a country that is based on the Muslim caliphate of Medina (the second holiest city in the world for Muslims after Mecca) which was developed by Prophet Muhammad.
The name Medina if given by Prophet Muhammad to a region previously named Yathrib to mean a country based on Islam as a religion. In another sense, Negara Madani refers to the Islamic State."
Unless Anwar tries to give a different interpretation, Negara Madani is in fact a country that is modelled after Medina which took Prophet Muhammad 10 years to develop and later became a great human civilisation for more than 1,500 years.
In this sense, the construction of Negara Madani should take after Prophet Muhammad's method of developing the Islamic State of Medina.
If that is indeed the idea of Civil Malaysia that Anwar wants to realise, it means that Anwar intends to make Malaysia an Islamic State as developed by Prophet Muhammad 1,400 years ago.
If such is Anwar's wish, PAS is ready to support that idea even though the party remains in the opposition bloc. But what about DAP? Is the party ready to accept the Islamic State (concept)?" – Jan 31, 2023
Dr Mohd Zuhdi Marzuki is PAS central working committee member. His opinion first appeared on HarakahDaily of Jan 31, 2023.
The views expressed are solely of the author and do not necessarily reflect those of Focus Malaysia.