PARTI Bangsa Malaysia (PBM)'s Supreme Council has unanimously elected Datuk Zuraida Kamaruddin as its president, replacing Julau MP Datuk Larry Sng who has insisted that he will continue to hold the party's top post. 
In a statement, PBM secretary-general Nor Hizwan Ahmad said the party's supreme council convened yesterday (Oct 7) and confirmed seven motions that were unanimously agreed upon during PBM's annual general meeting on Saturday (Oct 1).  
One of the motions was to appoint Zuraida as PBM president. 
"Accordingly, the supreme council which convened yesterday examined, carried out a proper process and in accordance with the guidelines of the party constitution appointed Datuk Zuraida Kamaruddin as the party's president," said Nor Hizwan. 
"The supreme council and all members of PBM congratulate her on this appointment and pray that YB Datuk Zuraida Kamaruddin will continue to be given the strength to lead the party to continue to excel in providing the best service to all Malaysians. 
"The supreme council would also like to express its highest appreciation and gratitude to YB Datuk Larry Sng who has been leading the party before," he added. 
It remains to be seen if Sng will step down as PBM president; after it was reported on Saturday that Zuraida was officially appointed as party president, Sng said "due process" needs to take place first before a "proper handover".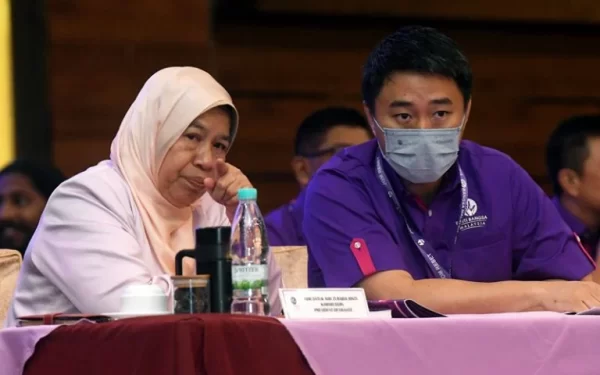 "Just to be clear, if an election is held before the transition is complete, I will still sign the watikah (appointment letter) for candidates in the 15th General Elections (GE15)," he said. 
Sng also told news portal Malaysiakini that the party president post would only be vacant under three scenarios – if the president resigns, is removed or leaves the party. 
"Up to them to interpret" 
"Since I have not resigned nor left the party, it is up to the supreme council to decide if they want to interpret the delegates' decision as my sacking from the office of president," he reportedly said.  
As of press time, neither Sng nor Zuraida have publicly commented on Zuraida's official appointment as PBM president. 
Back in May, Zuraida quit Parti Pribumi Bersatu Malaysia (PPBM) to join PBM. The plantation industries and commodities minister also reportedly resigned from Cabinet, although some reports suggested that she did not.

The Ampang MP was previously in PKR but was sacked over her role in the Sheraton Move of 2020, which brought down the Pakatan Harapan Government that she was a part of.  
To date, however, Zuraida is still in Cabinet, with observers speculating that Prime Minister Datuk Seri Ismail Sabri Yaakob does not want to "rock the boat" as he already has a razor-thin majority in Parliament. 
In June, Sng announced Zuraida as PBM president-designate. The party also gave her the mandate to lead delegations to meet other party leaders to discuss being admitted into any political coalition.  
The center-right party has requested to be part of Barisan Nasional (BN), but no decision has been made yet.  
PBM, which was previously known as the Sarawak Workers Party, was formed in late 2021 by Sng, who was also formerly with PKR. 
Including Larry and Zuraida, PBM currently has six MPs in its ranks, most of whom had won their seats during the 14th General Elections (GE14) on a PKR ticket but jumped party with Zuraida two years ago. – Oct 8, 2022 
Main photo credit: Berita Harian