A PICTURE paints a thousand words but would non-Malay/Muslim Penangites believe in the assurance of Perikatan Nasional's (PN) Pantai Jerejak candidate Oh Tong Keong should the Malay/Muslim dominant coalition is able to wrest control of the Pearl of the Orient from DAP?
The Penang Gerakan chairman even pledged that all Gerakan state assemblymen would resign en masse if the state government implements any policy that would affect the state's non-Muslim communities.
"This has been the unchanging position of the party," Sin Chew Daily quoted Oh who is also Gerakan deputy president as saying.
"I promise that if we obtain the people's mandate, Gerakan will not allow the PN state government to come up with any policy that will affect the everyday life and rights of non-Muslims or all Gerakan reps will resign en masse and let the people vote once again."
Oh also said the party had never whitewashed the actions of PAS and would speak up against any inappropriate statement made by PAS leaders unlike DAP which just "keeps mum" presumably to its PKR or UMNO allies in the Pakatan Harapan-Barisan Nasional (PH-BN) coalition.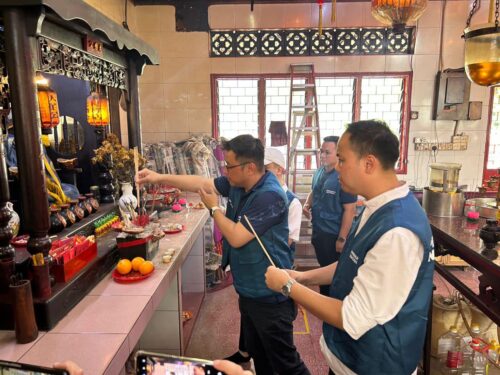 For the record, Oh has contested in the 2013 Penang state election for the Padang Kota constituency but lost to caretaker chief minister Chow Kon Yeow in a two-corner fight with Chow having polled 9,563 votes against Oh's 2,367 for a majority of 7,196 votes.
Gerakan's onslaught for the 40-seat Penang state assembly is led by its president Datuk Dr Dominic Lau Hoe Chai who himself is facing an internal struggle with PAS to contest the Bayan Lepas seat.
All in all, Gerakan will be contesting a total of 36 seats in four states for the upcoming state election on Aug 12. The party which ruled Penang until the 2008 general election would contest 19 seats in Penang, Selangor (eight), Kedah (three) and Negri Sembilan (six). – Aug 2, 2023
Main pic credit: Sin Chew Daily