THIS one-million-dollar question has popped up as Penang will be having two lesser women representatives in its state assembly for the 2023-2028 term.
Additionally, the incumbent Pakatan Harapan (PH) which retained its two-third majority in Aug 12's state poll albeit with 10 lesser seats (29 from 39 in 2018) will also have one lesser female participation in the state legislative assembly if compared to the previous term.
PH only fielded six women candidates of which four (all from DAP) walked away as victors, hence making up only 10% in the 40-seat assembly. They are Lim Siew Khim (Sungai Pinang), Phee Syn Tze (Sungai Puyu), Heng Lee Lee (Berapit) and Connie Tan Hooi Peng (Seri Delima)
Siew Khim – the only 'rose among the thorns' – has also been appointed one of the 10 executive councillors (EXCO) in-charge of social development, welfare and non-Islamic affairs. She again represents 10% of the entire state EXCO line-up in contrast to Penang having two women EXCOS during the 2018-2023 term in Chong Eng (DAP) and Dr Norlela Ariffin (PKR)
Two other PH candidates – one each from PKR and Barisan Nasional (BN) – lost to their Perikatan Nasional (PN) rivals.
They are Permatang Berangan incumbent Nor Hafizah Othman (UMNO-BN) who was defeated by PAS Tasek Gelugor division chief Mohd Sobri Salleh with a majority of 8,949 votes. Meanwhile, PKR's sole woman candidate Norhidayah Che Ros was toppled by Nor Zamri Latiff (PAS-PN) with a majority of 1,563 votes.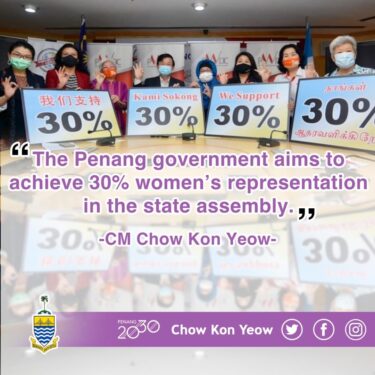 In all frankness, however, PKR and DAP who are key component parties within the Pakatan Harapan-Barisan Nasional (PH-BN) alliance failed to fulfil their pledge to field at least 30% of women candidates in last November's 15th General Election (GE15).
Women made up some 25% of DAP's candidates and 17% of PKR's although such percentage still overwhelmed that of Bersatu's (7.2%) which is a component of the opposition Perikatan Nasional (PN) coalition.
Both DAP Wanita chief Chong Eng (main pic, right) and Penanti representative Dr Norlela were not fielded in the 2023 state election. In 2018, a total of six women won in the state poll, thus making up 15% of the Penang state assembly.
Recall that Chong Eng had introduced the Top-Up Women-Only Additional Seats (TWOAS) White Paper which is a Penang state initiative to ensure a minimum of 30% women representation in its state assembly.
The TWOAS was intended to serve as a preparatory step to table state constitution amendment bill and the non-constituency supplementary bill in 2022 to create the positions of non-constituency supplementary members.
However, the initiative has not made significant progress so far. Even then, does this matter as netizen EB Lim has boldly pointed out:
"I do not think to set a ratio just to please a certain sex is democratic. We should need the democratic process to choose the best. Why only 30%? Who determine the ratio is perfect? DAP? Let us vote for the correct candidate. Do not set guideline and rules. Not try to be too smart." – Aug 18, 2023
Main pic credit: Sin Chew Daily