Editor's Note: International Trade and Industry Minister Tengku Datuk Seri Zafrul Abdul Aziz has just confirmed on his Facebook page that he has testified as a witness to the Malaysian Anti-Corruption Agency (MACC) to assist the investigation of the Jana Wibawa Contractors Empowerment Programme yesterday (Feb 20) evening.
"I will continue to cooperate with any authority if necessary. Thank You," he penned.
WITH numerous pending 'dates' with the Malaysian Anti-Corruption Agency (MACC) likely to pile up in his diary in the coming days or weeks, one wonders if that would not take a toll on the job performance of Tengku Datuk Seri Zafrul Abdul Aziz as the International Trade and Industry Minister.
With already graft-associated liabilities aplenty for Prime Minister Datuk Seri Anwar Ibrahim and his unity government to stomach, the very least expected of the technocrat-turned-politician – even though he has claimed time and again that he has nothing to hide – is to do the honourable thing that many Japanese or South Korean ministers would have done in his situation, which is to resign.
As it is, Anwar has a mountain to climb in the looming six states' election slated for mid-2023 by having to contend with the 47 corruption charges levelled at his deputy and UMNO president Datuk Seri Ahmad Zahid Hamidi.
Imagine the very fact that Pakatan Harapan's (PH) political enemies would have '47 valid reasons' to question the inaction of Anwar's reformist government in combating graft. Hence, the least the PKR president wants for now is another stumbling block in his near 100-day administration.
To make the sacrifices of DAP truly worthwhile by having only four Cabinet ministers when the party won the second highest number of seats with 40 in the 15th General Election (GE15) – behind PAS' 49 – the least the former finance minister during the previous two 'backdoor' administrations could do is not to hang on to his ministerial position.
After all, with the graft buster aggressively zeroing in on the likely misappropriation of government funds during the 17-month tenure of Bersatu president Tan Sri Muhyiddin Yassin, Tengku Zafrul is 'very likely to be implicated' or dragged into the investigation process by virtue of his past capacity of helming the Treasury.
Even as the probe surrounding abuses of government funds in the procurement of COVID-19 vaccines has just gotten underway so to speak, Tengku Zafrul who failed in his bid to wrestle the Kuala Selangor parliamentary seat from its incumbent Datuk Seri Dr Dzulkefly Ahmad has recently found himself entangled in the billion-ringgit Jana Wibawa scandal.
For the uninitiated, Bersatu information chief Datuk Wan Saiful Wan Jan has been charged at the Kuala Lumpur Sessions Couth this morning (Feb 21) in relation to the case.
And that's not all for Tengku Zafrul as former Bukit Bintang MP Wee Choo Keong has challenged him to "declare all the contracts and their amounts that you signed on behalf of the government without a tender and/or Cabinet meeting a few days before TS Muhyiddin resigned as PM".
"Did you (also) sign a contract for maintenance of KTM (Keretapi Tanah Melayu) coaches amounting to approximately RM600 mil?" tweeted the former DAP politician who recently contested the GE15 under the Parti Warisan ticket for the Wangsa Maju parliamentary seat.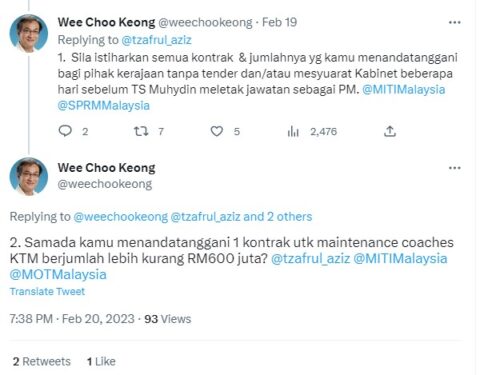 While there is no stopping Tengku Zafrul to be active politically – more so with his recent appointment as an UMNO Supreme Council member – he will be doing a big favour to the unity government by voluntarily stepping down as a member of Anwar's Cabinet.
Even if Anwar has to coerce the former CIMB Group Holdings Bhd CEO to vacate his MITI (Ministry of International Trade and Industry) portfolio if he is unwilling to do so on his own free will, the former will not be short of candidates to fill the void.
The best man for the job could be UMNO's Titiwanga MP Datuk Seri Johari Ghani who was previously a former finance minister II (2016-2018) during the tenure of now-incarcerated former premier Datuk Seri Najib Razak.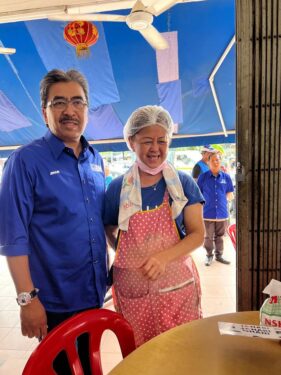 A qualified chartered accountant and an avid investor himself, the MITI portfolio fits the Kuala Lumpur-born Johari's experience very well for he has been active in the corporate world for more than 25 years.
He has held several senior positions, including group managing director and chairman in both listed and unlisted companies, in the realm of the fast-food industries, manufacturing and agriculture.
As of end-November 2022, he held 20.2% stake in Media Prima Bhd which is currently Malaysia's largest and leading integrated media company with a complete repertoire of media-related businesses in television, print, radio, out-of-home advertising, content creation, commerce and digital media. – Feb 21, 2023