PLS Plantations Bhd via its 49% associate PLS-LESB Sdn Bhd has inked a joint venture-cum- shareholders' agreement with Millennium Agriculture Technology Sdn Bhd (MAT), MYFARM Inc Japan and Akar Barat Jaya Sdn Bhd to launch a 1,000-hectare durian, agriculture and aquaculture cultivation in Pahang.
MAT is a subsidiary of MYFARM. The RM210 mil investment by MYFARM into the JV which is valued at circa RM429 mil marks the largest Japanese investment in a durian plantation project.
A Kyoto-based Japanese integrated agriculture company, MYFARM is backed by various established Japanese corporate shareholders which include among others, Tsumura & Co (a Japanese traditional herbal medicine manufacturer listed on Tokyo Stock Exchange with market capitalisation of US$1.57 bil), Nichiryu Nagase Co Ltd (a leading Japanese distributor of agricultural machinery and farm products), DCM Holdings Co Ltd (Japan's largest home improvement business operator) and SB Technology Co Ltd (previously Softbank Technology Corp).
MYFARM which operates the largest private agricultural school in partnership with the Tokyo University of Agriculture has produced 2,300 graduates over the past 12 years.
In addition, the JVC has entered into an offtake agreement with Dulai Fruits Enterprise Sdn Bhd which is an indirect 70%-owned subsidiary of PLS to purchase all of the harvests produced from the project.
Dulai Fruits had an exclusive distribution agreement with Shanghai-based China Oil and Foodstuffs Corporation (COFCO). COFCO is China's largest food processor, manufacturer, and trader with a global footprint and with fully integrated value chain.
"This marks the first step of PLS in transforming into Malaysia's leading agrifood company where further strategic partnerships will be identified," commented PLS' chairman Tan Sri Nazir Razak.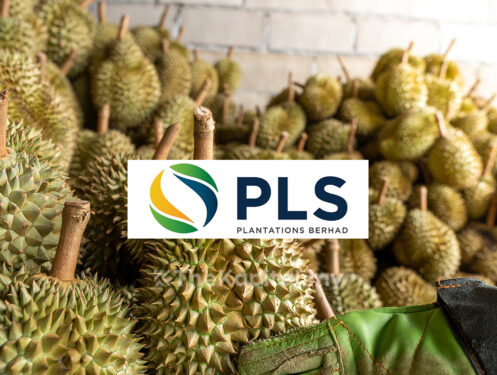 "(Gradually, PLS will) expand into other plantation activities such as forest plantation, cash crops, and other agricultural & aquacultural activities as part and parcel of the National Food Security Enhancement (an on-going initiative with the Agriculture and Food Security Ministry)."
On the longer term, this joint investment not only facilitates the transfer of Japanese technology and expertise in agriculture in Malaysia, but it is also a strong endorsement of Japan's foreign direct investment (FDI) to Malaysia which will contribute positively to the economy of Malaysia.
This will eventually boost PLS' core competencies as a leading producer of export-quality agriculture and aquaculture producer".
With PLS's leading position as a sustainable agrofood company with extensive experience in plantation and commitments to execute the food securities programme in Malaysia, MYFARM's founder and CEO Kazuma Nishitsuji  believe PLS is a good fit for MYFARM given that durian cultivation and inter-cropping farming is a sustainable investment which can accelerate MYFARM's agriculture expansion in Malaysia and the region.
MAT and MYFARM are expected to complete the first tranche of the investment in the JV on or before April 30 with an automatic extension of 14 days whereby any further extension(s) following the first extension shall be granted at PLS-LESB's sole discretion.
The subscription price for each tranche of the subscription of JVC Shares may be adjusted subject to the parties' mutual agreement.
Additionally, MAT and MYFARM have the option – exercisable within six months from the completion date of the project – to further expand the project by another 1,000 hectares upon and subject to terms and conditions to be mutually agreed by the parties.
The joint investment is expected to contribute positively to the consolidated net assets, consolidated earnings, and earnings per share of PLS through the share of results of PLS-LESB upon materialisation of the project.
At the close of Friday's (March 3) trading, PLS was up 6 sen or 6.32% to RM1.01 with 2.44 million shares traded, thus valuing the company at RM444 mil. – March 5, 2023