BURSA Malaysia-listed electrical solutions innovator Powerwell Holdings Bhd has via its wholly owned subsidiary Powerwell International Sdn Bhd inked a memorandum of understanding (MOU) today with E&E solutions provider M Electrical & Engineering Sdn Bhd which boasts a growing presence in the ASEAN region.
Under the strategic move, Powerwell International is set to acquire a significant 55% equity stake in M Electrical & Engineering. This acquisition valued at RM8.25 mil comes from esteemed shareholder Chen Choong Hee.
Established in 2017, M Electrical & Engineering specialises in manufacturing, supplying and fabricating customised electrical switchboards and panels.
Additionally, the company provides panel assembly services, wiring works, inspections and participates in solar farm projects in Malaysia and Australia with a vision of becoming a premier E&E solutions provider in the Asia-Pacific (APAC) region.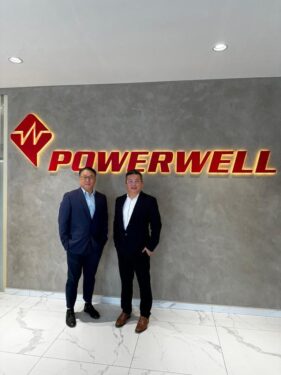 The strategic acquisition puts Powerwell Holdings at the forefront of driving the electrical industry. It aims to revolutionise the electrical industry by developing state-of-the-art electrical houses (e-houses), a customisable, pre-assembled and pre-tested modular power substation.
Complemented by Powerwell International's established industry presence, the group will capitalise on M Electrical & Engineering's exceptional expertise in panel assembly, wiring craftsmanship, inspections and electrical switchboard testing.
"Combining efficiency, cost-effectiveness, and adaptability into a plug-and-play solution, e-houses represent a major innovation in the electrical industry," commented Powerwell International's managing director Datuk Adam Yee Hee Hoon.
"We are enthusiastic about the strategic acquisition of M Electrical & Engineering as it allows us to lead the development of e-house technology and tap into the immense growth potential in the APAC region."
The growing demand for reduced cost, risks and delivery time has propelled the electrical industry away from traditional practices and towards e-house technology.
These customised, pre-assembled and pre-tested modular power substations are ideal for various applications, including industrial, utilities, renewable energy, outdoor switchgear and moveable or mobile substations.
"The transformation in the electrical industry is unmistakable," Yee pointed out while noting that e-houses offer an efficient, cost-effective and swift solution that are perfectly aligned  with the industry's evolving demands.
Aside from that, e-houses are gaining traction due to the rising demand for mobile substations in various sectors such as telecommunications projects, and within the manufacturing industry and infrastructure provision under the 'smart city' project.
Moreover, e-houses are also complementing power demand drivers in Malaysia, including data centres, public infrastructure projects, smart cities, mobile power stations for manufacturing and mega rail projects.
At the close of today's trading, Powerwell Holdings was up 0.5 sen or 2.13% to 24 sen with 888,800 shares traded, this valuing the company at RM139 mil. – Sept 6, 2023