QUESTIONS have been raised over the sale of non-fungible tokens (NFT) for the Langkah Sheraton painting by DAP MP Tony Pua, which raised RM1.3 mil for the party's general election campaign fund.
NFTs are cryptographic assets on a blockchain which is associated with a particular digital or physical asset.
The ownership of an NFT is recorded in the blockchain and can be transferred by the owner, allowing NFTs to be sold and traded.
Self-described NFT entrepreneur and NFT enthusiast @pedagang_eth said he was "reasonably confident" that very little or no funds were raised on the blockchain itself.
In a since-viral Twitter thread on Tuesday (Sept 6), he also speculated that more than half of the 148 wallets belong to the project owner, and further questioned the methods used for the NFT sale:
"Langkah Sheraton NFT" recently announced they managed to raise RM1.3 million (US$288,000) through the sale of 8,888 NFTs.

But there were only 148 holders. Something is amiss.

I checked the on-chain transactions…

.. and I didn't like what I saw. 🧵 pic.twitter.com/8XvBSLNJbM

— pedagang.eth (PG) | !SKULLS (@pedagang_eth) September 6, 2022
@pedagang_eth said early transactions for the NFT sale from Aug 19 to Aug 23, 2022 – amounting to US$14,614 (RM65,760) looked legitimate.
However, there was one transaction in particular that caught the user's attention: a withdrawal of US$13,100 (RM58,947) from the US$14,614 amount.
The transaction, made by a user dubbed by @pedagang_eth as "Langkah Sheraton Funder", then dispersed US$9,400 (RM42,298) of the US$13,100 into five new wallets, which, in turn, minted 195 Langkah Sheraton NFTs:

The same trend continued in subsequent batches of transactions, involving 94 wallets out of 148 that minted an estimated 7,700 or so NFTs: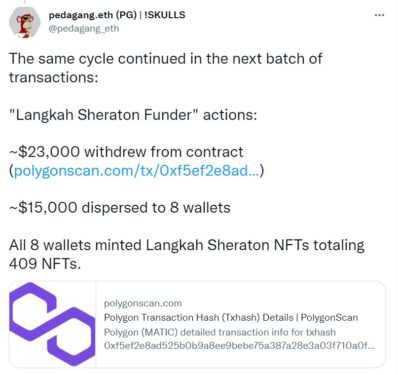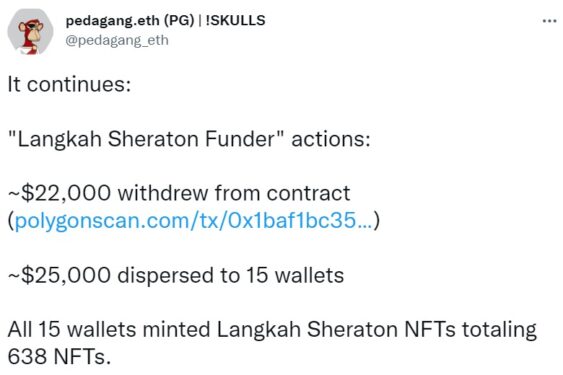 "Create the illusion of a sale"
@pedagang_eth concluded that the funds were cycled from wallet to wallet to "create the illusion" of a sale instead of being raised from the blockchain itself.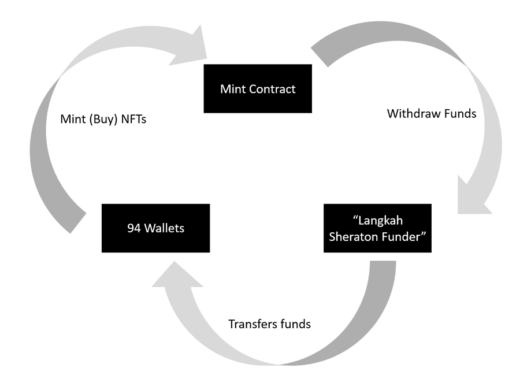 "Imagine creating 100 Shopee accounts, funding them and using those funds to buy from a Shopee seller. Same situation here," he said.
He noted that the RM1.3 mil could have been raised outside the blockchain, meaning payment was done in cash and NFTs were issued.
"However, if (this) is true, then, in my opinion, this goes against the spirit of true blockchain fundraising/sale," he said, adding that the developer could simply mint and airdrop the NFTs to the holders' wallets instead.
He further raised issues involving other "odd" transactions where the NFTs were not sold as per the schedule mentioned by the Langkah Sheraton account on NFT marketplace Opensea.io.
@pedagang_eth also clarified that his thread was not meant to attack any specific political party or intended to score political brownie points.
"I am speaking up on behalf of the web3/NFT community who may find this rather dodgy," he said, and expressed hope the project team would respond to his comments.
Meanwhile, Pua has said that everything was above board, with the DAP lawmaker telling Malaysiakini that they received every sen of NFTs sold.
He added that he offered to meet and show @pedagang_eth their records, with a meeting set for tomorrow (Sept 9).
Pua will also be answering questions on the Langkah Sheraton NFT project tonight on Twitter Spaces.
The Langkah Sheraton oil-on-canvas painting depicts a number of notable political personalities who made headlines leading up to, during and after the Pakatan Harapan Government fell in 2020.
For the NFT fundraiser, the painting was divided into squares and individually sold. They are still available for trade on Opensea.io. – Sept 8, 2022
Main photo credit: Tony Pua