FORMER Batu Kawan MP Kasthuri Patto (main pic, left) is entitled to her opinion. It is blatantly clear she has been coached to write about me. Of course, with expectations of rewards.
Well done! Typical case of a crab story, using an incompetent Indian to bring down or foul mouth another Indian.
Kasthuri can write whatever she wants but the fact remains that she was one of the worst MPs in the history of the DAP.
What fame and honour I need to get by joining the DAP when I was already a professor of political science and international peace consultant before I was asked to join the DAP?
The post of Penang deputy chief minister II was created specifically for me given my standing in society.
There was no need to join the DAP to rise to fame. I had to resign from my job in Singapore to take part in the 2008 general elections. Before, I left Singapore, I even refused a counter-offer.
Blatant lies
She is blind to these facts, obviously. It is not that DAP wanted me for nothing. They knew that my standing in the Indian community would get them the much-needed support.
With the HINDRAF movement, Indian support gravitated towards the DAP. The party wanted me as much I wanted to join the party. I have no regrets joining the party for it was a two-way benefit.
Kasthuri might be the daughter of P. Patto, a DAP veteran politician who is no more. She is a disgrace to her father whom I had great admiration and affection.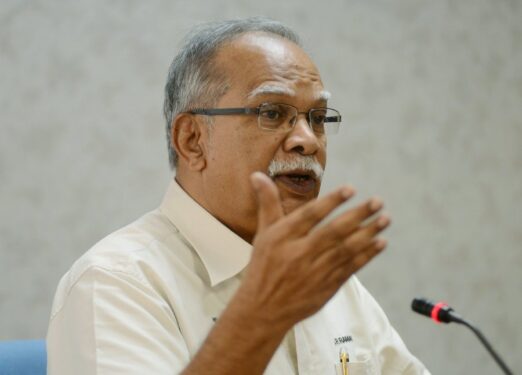 One need not ask me but ask her constituents in the parliamentary constituency of Batu Kawan – and they will tell you tales of how she neglected her constituency over two terms.
She was asked not to contest in the last general election. There were too many public complaints about her. She would have lost if she had contested in the 15th General Election (GE15).
Yet after deciding not to contest she went around spreading tales and untruths that she was forced not to contest because of the harassment from my staff and others. Specifically, she blamed Satees Muniandy and David Marshel.
This is famous or infamous line of Kasthuri of blaming others for the horrible job she did as an MP. What a shame and disgrace!
'My own decision to quit DAP'
She has nobody to blame but herself. Yet, she has the temerity to complain about me, saying that I used the DAP for my personal advancement.
Nothing can be further from the truth. What personal advancement? Have I engaged in the illegal accumulation of wealth?
Am I facing court charges over corruption or money laundering? It is her right to be the slave of the party leaders but don't expect such a kind of obsequious behaviour from me and others.
There is no such thing as blind servility to the DAP or to any other political parties. It was my decision to quit the party, mine alone.
I fully understand why Kasthuri has to engage in this attack against me; this is the only way that can re-ingratiate herself with the party leaders.
Maybe, she is eyeing a job or material offers from the party. By launching this uncalled attack against me, Kasthuri has shown all the traits of sycophant per excellence.
Great, keep it up. More attacks against me will be appreciated by those who are against me.  DAP has finally unleashed the "dogs" against me. Come on, I am ready. – Aug 11, 2023
Prof Ramasamy Palanisamy is the former DAP state assemblyman for Perai. He is also the former deputy chief minister of Penang.
The views expressed are solely of the author and do not necessarily reflect those of Focus Malaysia.
Main pic caption: Kasthuri Patto's Facebook