FUGITIVE blogger Raja Petra Kamarudin (RPK) has been taken aback by a few "unappreciative" Malay rulers who have branded him as "Hang Jebat" (a symbol of treachery) simply because they were angry with him for having betrayed or being disloyal to the royal institution.
The pro-Perikatan Nasional (PN) mercenary mouthpiece further claimed that "of the nine royalties, at least five have banned me from entering their palaces" as he has been deemed an "enemy of the monarch".
RPK offered two reasons for his friction with the Malaysian royalties.
"Firstly, I supported Kedah Menteri Besar Datuk Muhammad Sanusi Md Nor when he was arrested and charged for slandering the Sultan of Selangor. I defended Sanusi by justifying that the PN election director didn't even mention the ruler's name," justified RPK in his latest video clip entitled "Malay Rulers Declare Me as Hang Jebat".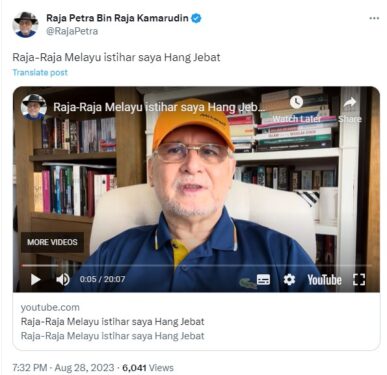 "Murka (unhappy) is not a criminal offence under the Malaysian law nor shariah law … if someone criticise me and I'm unhappy, that's my own problem and I've to live with it."
Added RPK who is believed to be residing in Manchester, UK in his 20:07 video clip: "Even if the sultan is murka, we cannot simply arrest and charge a person under the Sedition Act as that doesn't exist in the (Federal) constitution or such Act is not a criminal act equivalent to rape, sodomy or corruption."
As for the second reason, RPK shared that he was accused of being disrespectful for challenging the Yang di-Pertuan Agong's (YDPA) decree pertaining to the formation of the unity government in the aftermath of the 15th General Election (GE15).
"I challenged this because under the Federal Constitution, the Agong has no right to decree nor mention anything related to politics … this goes to say that the Agong has melanggar perlembagaan (violated the constitution)," he rationalised.
RPK further delved on the royal institution being ungrateful to the fact that it was the people's uprising at the height of the constitutional crisis in the 1980s that prevented the protagonists in the then prime minister (PM) Tun Dr Mahathir Mohamad, deputy PM the late Tun Ghafar Baba and current PM Datuk Seri Anwar Ibrahim from "destroying the monarch system and make Malaysia a republic".
"Then I was a supporter of the palace by opposing the then Dr Mahathir, Ghafar and Anwar for condemning the Malay rulers, and in the process got arrested for defending the royal institution," recalled RPK.
"Those days, many of the present Malay rulers were regents but sadly, they have forgotten their past by becoming staunch and hardcore supporters of Anwar when Anwar alongside the late Ghafar and Dr Mahathir had wanted to destroy the monarchy system and make Malaysia a republic.
"Anwar was the main player in wanting to get rid of the monarchy system and make Malaysia a republic but alas, the plan was abandoned as the people – majority of whom were PAS members, non-partisan Malays and a handful of UMNO members – rose to oppose such a scheme." – Aug 29, 2023