ASTANA Negeri Sarawak which is the office of the state governor has assured all Sarawakians that the Yang di-Pertua Negeri Tun Abdul Taib Mahmud is well and in good stead.
"We would like to assure that all viralled and unverified news which are not from Astana Negeri Sarawak regarding the well-being of Tun in social media platforms are completely fake and untrue," Taib's private secretary Junih Saleh Ahmad pointed out in a media statement.
"We hope that with this press statement, all adverse reports and rumours regarding Yang di-Pertua Negeri Tun Abdul Taib Mahmud would be put to rest."
Earlier today, FocusM ran an article about rumours being rife that Taib, 87, who is Sarawak's seventh Yang di-Pertua Negeri since March 2014 is currently under induced coma at the Normah Specialist Hospital in Kuching.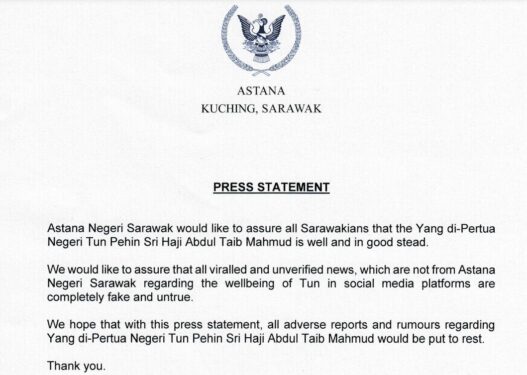 Prior to being appointed as Sarawak's governor, Taib was Sarawak's fourth chief minister during which he reigned for 33 years (March 1981 to February 2014), thus holding the record as the longest-serving head of government of a Malaysian state.
Being a MP for 38 years, Taib is also credited as the second longest-serving parliamentarian in Malaysia after former Gua Musang MP Tengku Razaleigh Hamzah (48 years from 1974 to 2022). – June 22, 2023
Main pic credit: Bernama