IT is great news that Malaysia has succeeded in getting investors on board during the recent ministerial delegation's trip to Italy.
The delegation was led by International Trade and Industry Minister Tengku Datuk Seri Zafrul Abdul Aziz from Jan 20 to 23, and the Malaysian Investment Development Authority (MIDA) said it has attracted potential foreign direct investments (FDIs) worth RM3.25 bil.
The disappointing part of the news release is always the "potential" FDI, whereas the country is in dire need of real-time FDIs.
Some netizens are reacting to the news that Malaysia attracted RM3.25 bil.
@Same_Sarikei quote tweeted on a news portal's Twitter account saying: "The key word here is potential."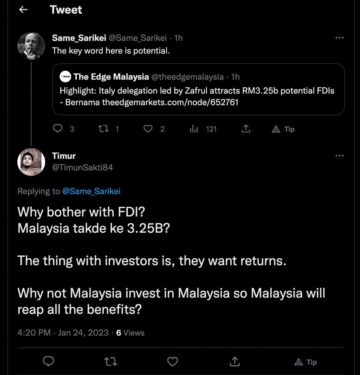 This demonstrates that Malaysians who are aware of the need for FDIs to boost our economy are raising concerns.
Nevertheless, FDI in Malaysia averaged RM8121.24 mil from 2005 until 2022, reaching an all-time high of RM24690.41 mil in the fourth quarter of 2021 and a record low of RM -1982.56 mil in the fourth quarter of 2009.
In a statement today, MIDA said the FDIs, which are expected to be realised from this year onward, were due to Malaysia's strategic location as a gateway to ASEAN and the Asia Pacific region.
The Italian companies had expressed their interest in investing in various fields, including the chemical industry, green technologies, the e-Economy, smart technologies, and Industrial Revolution 4.0 value chains.
"In line with the Government's commitment to being pro-business, pro-investment, and pro-trade, the ministry and its agencies are ready and prepared to enhance ties with investors that bring in hi-tech and quality investments that will help create better-paying jobs for Malaysians.
"What is key now is to address all the pain points in the investors' journey to improve the overall ease of doing business in Malaysia," said Tengku Zafrul, adding that Malaysia is already well recognised for its strategic location in Southeast Asia, diversified industry ecosystem, and qualified talent pool. — Jan 24, 2023