SURIA KLCC Sdn Bhd, the renowned retail destination is thrilled to announce the much anticipated return of The Golden Ticket campaign from June 2 to June 25, 2023.
"The Golden Ticket campaign stands out as a remarkable annual tradition eagerly anticipated by loyal customers. Over the past three years, this extraordinary campaign has generously awarded shoppers with a cumulative value exceeding RM1 mil in shopping vouchers.
"As a direct outcome, our retail partners have witnessed a notable surge in both footfall and direct sales," said Suria KLCC executive director and CEO Andrew Brien.
Building on the tremendous success of years prior since its beginning in 2020, this year's promotion promises even more excitement and exclusive incentives for Suria KLCC shoppers.
This engaging campaign will unfold in three phases, starting with a media event on June 2, followed by The Golden Ticket Redemption from June 3 to June 24, and culminating in a spectacular shoppers' appreciation event on June 25.
The Golden Ticket Redemption will take place at the Centre Court of Suria KLCC.
Moreover, the centrepiece of the setup will be 100 mysterious boxes, each containing a draw ticket that could unlock either a coveted Golden Ticket (worth RM5,000) or a Purple Ticket (worth RM50).
Shoppers who spend RM500 and above in two receipts at any specialty store will have the thrilling opportunity to draw from these boxes, revealing their fortune and the value of their e-Vouchers.
The moment a Golden Ticket is discovered, the stage will come alive with lights and celebratory music, creating an electrifying atmosphere for all to witness.
Furthermore, The Golden Ticket winners will get to commemorate their win at the Wall of Winners. They will have their moment of fame as their photos and videos will be displayed on a rotating screen at the Centre Court as well as on in-mall digital platforms.
On weekdays, there is one lucky draw session from 12pm to 8pm, while on weekends, there are two sessions—the first is from 10am to 2pm and the second is from 5pm to 9pm.
Each session adds 100 new tickets for shoppers to snag. Plus, any remaining tickets that were not drawn will snowball into the next day.
Adding to the excitement, the top 50 highest spenders during the Golden Ticket Redemption period will be invited to attend the exclusive Shoppers Appreciation Event on June 25.
This remarkable occasion will treat these esteemed shoppers to a cocktail-style gathering, complete with delectable canapés and a live DJ performance.
As a testament to their loyalty, one fortunate shopper will have a bonus chance to win the prestigious Super Golden Ticket, worth an incredible RM10,000 in eVouchers, without requiring any additional spending.
Meanwhile, the remaining invited shoppers will receive RM50 e-Vouchers as a token of appreciation.
Alamanda Shopping Centre
At Alamanda Putrajaya, The Golden Ticket campaign which runs from May 26 to June 18, 2023, promises more excitement and rewards for shoppers.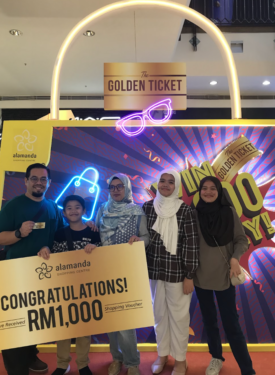 Each day, there will be a total of 101 draw tickets, comprising one unit of The Golden Ticket (worth RM1,000) and 100 units of the White Ticket (worth RM50).
Any leftover tickets from the previous day will be carried forward to the next day, increasing the number of tickets available. Each shopper is also limited to one prize per day, subject to availability.
Mesra Mall
Over at Mesra Mall in Kemaman, Terengganu, The Golden Ticket campaign will run for 30 days, from July 2 to July 31, 2023. Only original receipts from specialty outlets in Mesra Mall on the same day of purchase will be eligible for this campaign. – June 7, 2023