JALAN Raja Uda in Butterworth, Penang is a sight to behold with 10,000 red-silk lanterns set up to usher in the Year of the Rabbit on January 22, 2023.
"The ceremony to light the 10,000 red-silk lanterns at Jalan Raja Uda in Butterworth is significant not only because Jalan Raja Uda is the only street in Malaysia – and probably the world – to have 10,000 red-silk lanterns to welcome the Year of the Rabbit in two weeks' time," veteran lawmaker Lim Kit Siang said in his speech at the ceremony last night.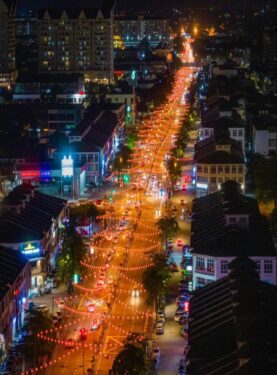 "It also marks the end of the COVID-19 pandemic in Malaysia and a reset of the nation. For more than three weeks since Dec 17, 2022, we have had triple-digit daily COVID-19 cases and single-digit COVID-19 deaths – a far cry from when Tan Sri Muhyiddin Yassin resigned as prime minister in Aug 2021 when we recorded five-digit daily cases and triple-digit deaths."
The former Iskandar Puteri MP expressed hopes that the nation will continue to witness a decrease in the number of COVID-19 cases and deaths before the National Day on Aug 31 this year, now that there is a new federal government with Datuk Seri Anwar Ibrahim as Prime Minister.
"Let the lighting of 10,000 red-silk lanterns in Jalan Raja Uda tonight usher in a new year where Malaysians inside the country and the whole world can feel proud as Malaysians, instead of being humiliated and ashamed as the nation was associated with kleptocracy and abuses of power," he remarked.
"The lighting of the 10,000 red-silk lanterns in Jalan Raja Uda is therefore highly significant in heralding a new beginning for Malaysia.
"Malaysia is at the confluence of four great civilisations – Malay/Islamic, Chinese, Indian and Western, and we must leverage on the values and virtues of these four great civilisations to build a great world-class nation.
"We should learn from best and not the worst from these four great civilisations to build a great Malaysia where Malaysians all over the world can be proud of." – Jan 9, 2023
Main pic credit: Lim Guan Eng / Facebook