UMNO Youth chief Datuk Dr Asyraf Wajdi Dusuki has described the accusation of Bersatu president Tan Sri Muhyiddin Yassin that the corruption charges against its information chief Datuk Wan Saiful Wan Jan was part of a "selective prosecution" orchestrated by UMNO president Datuk Seri Ahmad Zahid Hamidi as "extreme slander and reasonable to sue".
The former prime minister and Perikatan Nasional (PN) chairman has further claimed that the prosecution against Bersatu had been hinted at by Zahid earlier.
"Does the RM6.9 mil of bribery money that went into the company account of PN/Bersatu information chief Wan Saiful Wan Jan is that also the fault of the UMNO president?" asked Asyraf who lost to Bersatu's Fathul Huzir Ayob in the contest for the Gerik parliamentary seat during the 15th General Election (GE15) on his Facebook page.
Earlier, Muhyiddin has expressed sadness that this is the first time Bersatu has been taken to court.
"If you remember the statement made by the UMNO president (made during Zahid's speech at the MIC general assembly in October last year), he said there will be a new court cluster," he told the media when met at the Kuala Lumpur Court today. "That's like something that was planned from the beginning."
Wan Saiful who is also the Tasik Gelugur MP has today claimed trial to two bribery charges at the KL Sessions Court in connection with the government's Jana Wibawa scheme involving RM6.96 mil which went into the bank account of his company, WSA Advisory Group Sdn Bhd between July 8 and Sept 30 last year.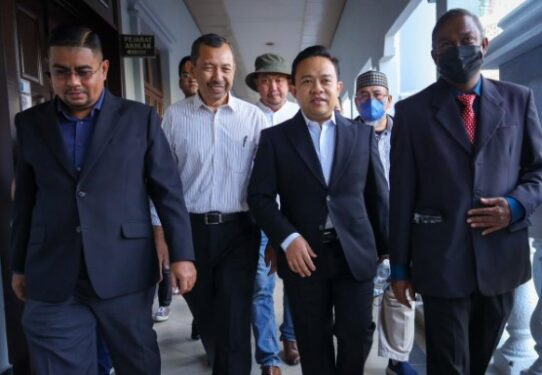 Both charges were made under Section 16(a)(A) of the Malaysian Anti-Corruption Commission Act 2009 whereby the first-term MP faces a maximum jail sentence of 20 years, a fine of RM10,000 or not less than five times the value of the bribe solicited under Section 24(1) of the MACC Act if found guilty.
Sessions Court judge Azura Alwi set bail at RM400,000 and told Wan Saiful to surrender his passport to the court before March 22.
Commenting further on his FB page, Asyraf hinted that Wan Saiful's case could only be 'tip of the iceberg' given that the Jana Wibawa scheme entails 56 projects valued at RM6.3 bil which were farmed out on a direct negotiation basis.
"As per the answer in Parliament yesterday (by Minister in the Prime Minister's Department [Law and Institutional Reform] Datuk Seri Azalina Othman Said), only one case that has been charged in court to-date.
"It was said a few of the letters of acceptance involved politicians and son-in-law of top political party leaders. Let's wait …"
Following the benchmark of PN supporters, Asyraf said Wan Saiful "has already entered the court cluster and will be dealt with by the punishment handed down by the court of public opinion".
"But as Muslims, we must adhere to the Islamic principle of Al-Aslu Baraatu Zimmah, which means a person is considered innocent until proven guilty by the court." – Feb 21, 2023
Main pic credit: Harian Metro