INSTEAD of revising the minimum wage, the Government should change its mindset and adopt the living wage concept to offer a sustainable income for workers.
"My question is whether the Government is ready to make a paradigm shift by transforming the minimum wage concept to a living wage.
"For that to happen, the Government must recalibrate itself and determine a sustainable and affordable living wage for all Malaysians," Penang Malaysia Trades Union Congress (MTUC) secretary K Veeriah told FocusM.
On Labour Day, Prime Minister Tan Sri Muhyiddin Yassin announced that the Government was reviewing the minimum wage to ensure workers earn enough to meet demands of current economic conditions.
"I hope all parties would get involved and urge those wishing to voice their views and suggestions on this issue to participate through the platform provided," he was reported saying.
The Pagoh MP added that the Government was in the process of improving and amending labour laws especially the Employment Act 1955, by widening its scope.
Elaborating, Veeriah said that Bank Negara Malaysia (BNM) itself, in a report published in 2018, urged the Government to adopt the living wage concept.
Based on the study, the central bank said that an individual needs to be earning at least RM2,700 to live a decent life in the Klang Valley.
For a married couple with two children, the family would require a minimum of RM6,500 household income to survive at the said area.
"So, against this backdrop, the current minimum wage of RM1,200 is definitely way too low for anyone but is the Government ready to review the rate to reflect the living wage concept?" he queried.
On that note, the veteran unionist said that many experts including economic experts have stated that living wage is the solution to address the wide income disparity existing in Malaysia.
"Studies have also shown that by paying a living wage to workers, they will not have to moonlight to gain extra income," Veeriah stressed.
Living wage reduces dependence on migrant workers
On arguments that cost of living varies from urban to rural areas, Veeriah dismissed the notion outright, adding the difference was negligible.
"Even you stay in Perlis, you still pay the same price for a kilogramme of sugar, wheat, cooking oil and other essential goods.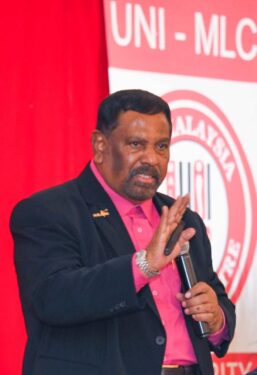 "Yes, the home rental rate may differ but if you look at the overall expenses, it's really not that different. RM1,200 is very low no matter which part of Malaysia you live in," he added.
On related matter, Union Network International-Malaysia Labour Centre (UNI-MLC) welcomed Muhyiddin's decision to review the minimum wage but stressed on a more comprehensive solution.
"We welcome the prime minister's decision to review Employment Act 1955. This is in line with our call recently for the authorities to review all laws related to workers' welfare.
"This includes the Trade Unions Act 1959, Industrial Relations Act 1967 and Perkeso Act 1969. This holistic change is needed taking into consideration present day needs and challenges, which includes COVID-19 and Industrial Revolution 4.0," said its president Datuk Mohamed Shafie BP Mammal.
With that, Shafie urged the Government to engage all stakeholders, including National Labour Advisory Council (NLAC) and other unions to come up with a comprehensive framework.
"Employers must create a smart partnership by offering a wage system centralised on humanitarian grounds. We should not be too focused on maximising profits alone.
"This is the time to reward workers for their contributions by providing better remuneration. In turn, it will create an ecosystem where Malaysia would not have to rely on migrant workers in the long run," Shafie noted. – May 4, 2021.