IN his quest to untangle the 40-year entangled web of politics and business involving former premier Tan Sri Muhyiddin Yassin and Tan Sri Syed Mokhtar Al-Bukhary, controversial blogger Hussein Hamid a.k.a. Steadyaku47 has in Part Two of his exposé concluded that the corporate tycoon does not need the Bersatu president for his business continuity.
Despite the Perikatan Nasional (PN) chairman still having a soft spot for Syed Mokhtar as evidenced in his recent claim of their 40-year-old friendship – one that goes back to their bachelor days – both their families have remained estranged to this day, according to the blogger who is believed to be residing in Melbourne (Australia).
"I am not surprised that maybe when Muhyiddin was PM recently (17 months from February 2020 to August 2021), he might have thought that it was his turn to demand some recompense from Syed Mokhtar for all the 'troubles' of their past partnerships by demanding this or that which may include the RM195 mill political donations for PN," penned Hussein in his latest blog.
"Syed Mokhtar, for his part, would have heaved a sigh of relief when Muhyiddin was recently charged with corruption and money laundering, and Syed Mokhtar will be more grateful for some more relief – if or when Muhyiddin is found guilty and incarcerated for the crimes that he has now been charged with."
On Friday (March 10), Muhyiddin was charged with four counts of abuse of power at the Kuala Lumpur Sessions Court for using his position as the then PM to solicit RM232.5 mil in bribes from corporate entities, including Syed Mokhtar which the ex-PM never denied.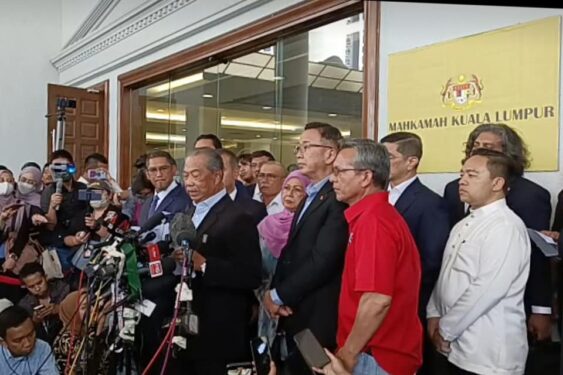 Additionally, Muhyiddin also faces two more charges of money laundering, wherein his party received RM195 mil out of the total sum from illegal activities with money deposits found in Bersatu's bank accounts which the authorities consider bribes from three companies and an individual.
The companies are Bukhary Equity Sdn Bhd, Nepturis Sdn Bhd, and Mamfor Sdn Bhd while the individual is one Datuk Azman Yusoff (who happens to be president of the Bumiputera Contractors' Association), according to news reports.
Elsewhere, the Pagoh MP was further charged with receiving proceeds from illegal activities amounting to RM195 mil out of the RM232.5 mil from Bukhary Equity.
In Hussein's reckoning, Syed Mokhtar is resourceful and adept at overcoming adverse situations.
"Especially now that he has got the money to buy anything … and by anything, I mean anything … nudge nudge wink wink," quipped the blogger who described himself as a "parasite that has done numerous damages to Malaysia through his blogs".
"If he cannot buy PMX (Datuk Seri Anwar Ibrahim) – and I doubt he will be able to do that – then he may consider buying people closest to PMX to soften PMX stance towards him and his business empire. Knowing him, he will invest in what is necessary to do just that."
After all, the Alor Setar-born tycoon-cum-philanthropist "is just over 70 (71 years old to be precise) with two very young children, Daniel and daughter Sophia to worry about", according to Hussein.
"They are both under 30. Are they ready should they be needed to take charge of his business empire?" wondered the Australian permanent resident who was pursued by the Malaysian police in May last year for an article which apparently insulted the Pahang royalty.
"And he has just recovered from prostate cancer and spends most of his time overseas to avoid the simmering heat of the political conundrum back home in Bolehland." – March 12, 2023