WHETHER he has an axe to grind or otherwise, AirAsia's detractor and former Tourism Malaysia chairman Wee Choo Keong is cynically hoping that 2023 will make re-appointed Transport Minister Anthony Loke Siew Fook "salesman of the year" for PN17 (Practice Note 17) Capital A Bhd, the operator of AirAsia.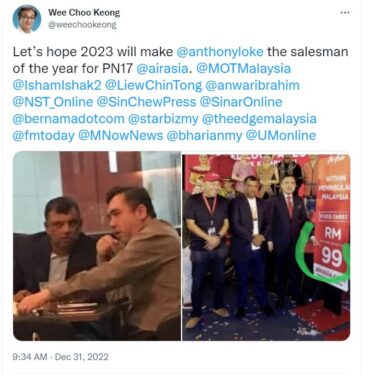 Chiding the Seremban MP for behaving like a marketing manager for the budget carrier, Wee went on to display a reply to his Tweet by @Dick_Lopez77 who contended that it "was a bad call" for Loke to be the guest of honour at AirAsia's recent cheap ticket launch event in conjunction with Chinese New Year 2023.
"Was a bad call for a newly-minted minister to go officiating an @airasia event when the two crooks AA Execs 1&2 have not been apprehended by @SPRMMalaysia (the Malaysian Anti-Corruption Agency)," noted @Dick_Lopez77.
"Isn't (AirAsia Aviation Group Ltd group CEO) Bo Lingam also wanted for questioning in India regarding #Moneylaundering?" (Editor's Note: Both Bo and Capital A's CEO Tan Sri Tony Fernandes were present at the said event).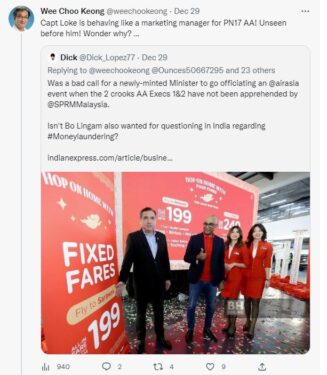 For context, Wee who recently lost his deposit in the 15th General Election (GE15) as a Warisan candidate for the Wangsa Maju parliamentary seat has been one of AirAsia's biggest critics for years now.
Recall that AirAsia had in July 2015 filed a suit against the former DAP Bukit Bintang MP who is also the owner of blog http://weechookeong.com for knowingly and intentionally published false and malicious statements defamatory to the low-cost carrier, thus damaging its reputation.
In a media statement issued back then, the budget airline claimed that Wee has regularly published many false, misleading and disparaging statements on his blog, including an article entitled "Why Liow & MAHB encouraged AirAsia to owe RM50 mil PSC (passenger service charge) airport tax?" dated April 20, 2015. (Editor's Note: Former MCA president Tan Sri Liow Tiong Lai was the Transport Minister between June 27, 2014 and May 9, 2018.)
Earlier on Tuesday (Dec 27), the vocal Kelantan-born lawyer by profession who speaks fluent Malay has chided Loke for getting Batik Air to apologise for a flight delay but purportedly overlooked "the constant delays & cancelled flights with no refund by another airline?"
This tweet has eventually inspired FocusM to churn out its commentary piece entitled "Beyond Batik Air: Netizens swamped Anthony Loke with requests to act against AirAsia, too".
Well, the very fact that Wee is keeping a close eye on AirAsia should be welcomed especially from the check and balance perspective so long as he is able to render constructive criticism towards the betterment of what is deemed below par customer service by the home-grown budget carrier.
As for Loke having a 'soft spot' for AirAsia, FocusM holds the belief that perhaps Wee should be less presumptuous of the former but to accord him benefit of doubt and space that he (Loke) has his own way to handle AirAsia.
After all. there are thousand and one things that the DAP secretary-general has in mind to improve the 'sad' state of Malaysia's transportation system that encompasses air, sea and ground. – Dec 31. 2022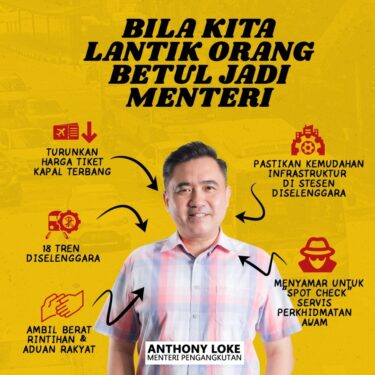 Main photo credit: Utusan Malaysia