EARLIER today, a Sarawak-based minister told farmers and fishermen to stop relying too much on Government aid and change their "subsidy mentality".
According to Bernama, Sarawak Agriculture Modernisation and Regional Development Minister Datuk Seri Stephen Rundi Utom stated that it was more appropriate to give such assistance or incentives to those who are just venturing into a career in agriculture.
"If they continue to rely on subsidies, they will forever be dependent on assistance. That should not be the way forward for us.
"Initially, I had thought that we should provide assistance, but it cannot go on forever, be it for farmers or fishermen," he said in a speech.
However, his comments drew flak from netizens who reminded Stephen that he himself was drawing his salary from taxpayers' funds.

(Taxes are collected to help the people, not to fill ministers' pockets)
Echoing Anum's sentiment, user Azimi Hasan added:

(Yes, stop the subsidy culture. Tell our ministers to stay in their homes, use their own vehicles and pay for their own utility bills. With you guys getting free houses and official vehicles with fuel being paid by the state, when will you people become independent?)
Netizen Sabrina Kutu jested:

(Then, don't tax the people. Simple right?)
Subsidy vital for agriculture
On that note, user Zainab Hamzah reminded Stephen that it was important to subside the nation's farmers and fisherfolk, given the dire need to solidify Malaysia's self-sufficiency when it comes to food production.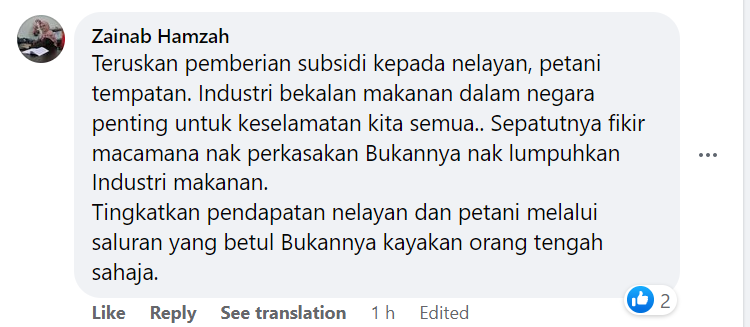 Netizen Faizul Azri retorted:

(When it comes to commoners, subsidy is bad. However, when it comes to the capitalist gang, they get bailouts. What an imbecile) – May 14, 2022