SOCIAL media was abuzz with indignation as local netizens reacted to a report in American daily USA Today that purportedly placed Penang Hill among the top 10 tourist traps in the world.
According to article authors Glen Luke Flanagan and Robin Saks Frankel, the list is intended to help travellers avoid a case of destination let-down. The list was compiled based on online feedback provided by travellers.
In July 2023, the duo analysed 23.2 million Google reviews of the 500 most popular tourist attractions in the world, spanning 65 countries in six continents.
For each attraction, they asked a simple question: How frequently do the reviews mention the terms "tourist trap", "over-rated" or "expensive"? According to their key findings, Penang Hill is the top tourist trap in Asia.
The Four Corners Monument (in Arizona, New Mexico, Colorado and Utah) is the top-ranked tourist trap in the world while the Blue Lagoon in Iceland is the top tourist trap in Europe.
Harsh realities
Before patriots get their knickers in a knot, it must be noted that eight in the top 10 were American destinations to avoid any accusations of geographical-bias. Furthermore, the list was compiled based on traveller online feedback with a seemingly simple and neutral algorithm.
According to Oxford Languages dictionary, a tourist trap is defined as "a place that attracts many tourists and where goods and services are more expensive than normal".
Netizens who are upset at Penang Hill's ranking on this dubious list must accept certain realities.
Firstly, tourist traps only exist at highly popular destinations as per Oxford Languages definition above. Scammers and the unscrupulous rarely bother with less visited sites. This alone underlines that Penang Hill has many worthy attractions to capture the crowds.
This suggests that perhaps tourist authorities can use this list as a form of 'reverse publicity'?
Penang State EXCO member Wong Hon Wai has responded by pointing to Penang Hill's one million annual visitors, claiming that many are repeat visitors, thus debunking the US papers claim that it is a tourist trap.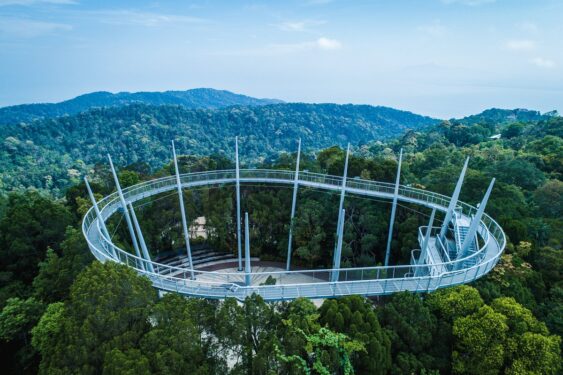 Perhaps, he should just have said that this was an inevitable consequence of the destination being hugely popular. He could have leveraged the publicity by asking even more tourists to visit and find out why it attracts so many visitors despite the negative publicity.
Secondly, highly popular destination are bound to attract dodgy characters, ranging from crooked cab drivers to unsolicited 'professional' photographers. It is the same everywhere, not just Penang Hill.
Perhaps the authorities would like to be more proactive in preserving the good name of the island as a tourist destination. These include posting helpful information on relevant websites. This should include indications of 'reasonable' prices for goods and services.
A list of 'verified' or 'trusted' vendors or businesses can also be included on this list to help improve the tourist experience.
Authorities could even go a step further by issuing special licenses to those wanting to operate at these tourist hot spots while making them adhere to strict guidelines.
Anyway, Penang Hill is in good company with Graceland (in Memphis, Tennessee, US) among the destinations named and shamed on the list. It is doubtful that Elvis-fanatics are going to stop visiting the King's former abode because of this tourist trap list; similarly tourists will still keep flocking to Penang Hill.
But it may be high time for the state authorities to be more proactive in safeguarding and promoting the island's tourist spots.
After all, tourism is a major contributor to Penang's GDP (gross domestic product) and more should be done to aid its post-pandemic recovery. That's a pertinent reason to do something about negative publicity, lest the accusation that "ini semua salah DAP" (these are all DAP's faults") be doled out again. – Sept 27, 2023
Main pic credit: Viator