WITH DUE respect to DAP chairman Lim Guan Eng, one cannot help wondering why he is holding back from sending a letter of demand to news portal MalaysiaNow for twisting his Mandarin speech made at the Tian Fu Gong White Dragon King Tour event in Jelutong, Penang last Friday (July 7).
This is after the news portal believed to be connected to Perikatan Nasional (PN) information chief Datuk Seri Mohamed Azmin Ali ran a controversial piece entitled "Temples Will Be Destroyed, So Stop the Mongols: Guan Eng Warns Penangites Against Green Wave" the following day (July 8) by citing Chinese daily China Press.
"I want to emphasise once again that the MalaysiaNow report is a lie and slander. It is very regrettable that MalaysiaNow continues to remain silent when China Press has already explained that the MalaysiaNow portal has mis-translated its report," lamented the Bagan MP and former Penang chief minister in a recent Facebook post.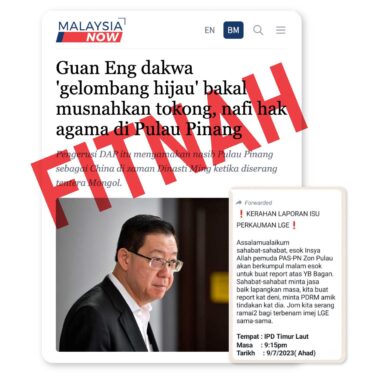 "What I was referring to is the Hindu temple, specifically there was a case of a Hindu temple being demolished in 2020 in Kedah."
Added Guan Eng: "Although I have repeatedly explained that MalaysiaNow has distorted my speech whereby I never mentioned Chinese or Buddhist temples in my speech, PAS continues to play up this issue and even lodged a police report based on something that I never said."
That MalaysiaNow has yet to even retract both the English and Bahasa Malaysia version of its report is rather baffling considering that the former finance minister who is also the Air Putih state assemblyman had on May 3 swiftly gotten Malaysiakini to not only retract but apologised for an article alleging an internal push by nine DAP state representatives to replace Penang chief minister Chow Kon Yeow post the upcoming state polls should DAP retain power in the state.
More recently, Guan Eng through his political secretary Wong Hon Wai had also successfully gotten PAS mouthpiece HarakahDaily to apologise and retract a report claiming that a former DAP member who had joined the Islamist party was purportedly serving as Guan Eng's special adviser.
For now, the ball is on Guan Eng's court as it seems that initiating legal action (or at least a police report) against MalaysiaNow is the only option to put the matter to rest lest Pasir Mas MP Ahmad Fadhli with whom he (Guan Eng) has a bone to pick after the latter urged his minions to lodge en masse police report (against Guan Eng) is bound to have last laugh:
"Yesterday (July 9), YB Lim Guan Eng has asked me to lodge a police report against him all by myself, not by anyone else. This is because the police report against him could be considered a misdemeanour for making a false police report," penned Ahmad Fadhli who is also PN and PAS Youth chief.
"I've therefore told all the young people out there not to file a police report or else they'll be arrested for making a false report. When I get back (from overseas), I'll file a police report myself.
"But suddenly, dozens of police reports have been lodged and PDRM (Royal Malaysia Police) has confirmed that they will call him for investigation. So, it seems now that I've to apologise to him (Guan Eng) because my instructions were not heeded. Apparently, a lot of people are angry with his statement that they are flocking police stations to lodge their reports.
"Malaysiakini can run an article with this title: Fadhli Apologise to Lim Guan Eng" – July 11, 2023