YTL Communications Sdn Bhd's YES is welcoming 2022 with a bang by ushering new beginnings for Malaysians with its #FirstToDiscover5G campaign.
Through this campaign, YES – the first telco in Malaysia to offer the 5G network alongside Telekom Malaysia Bhd's Unifi – is offering a free YES FT5G Prepaid Discover SIM Pack to customers with a 5G compatible phone from today (Jan 10) until Feb 14.
Recall that YES 5G was launched in December 2021 in line with Digital Nasional Bhd's launch of Malaysia's 5G services.
This is the first in a series of campaigns that YES is developing to encourage widespread 5G adoption in Malaysia, according to YTL Communications CEO Wing K. Lee.
"There are more than two million 5G compatible phones in use in Malaysia today. This will ensure that more Malaysians have access to 5G with our free FT5G Prepaid Discover SIM Pack," he pointed out.
"We have already experienced the far-reaching benefits of 5G and how it positively impacts how Malaysians live, work and play. YES remains committed to spearhead a more connected future for Malaysians and enable easier access for everyone to experience the power of 5G to unlock a world of endless possibilities."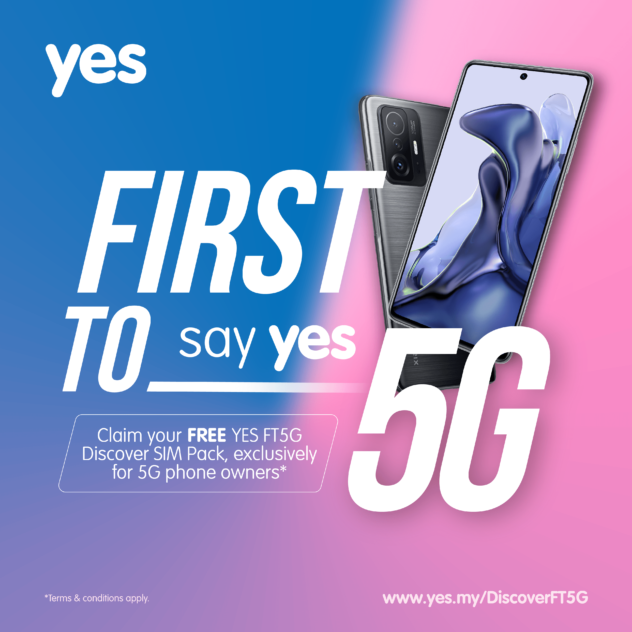 In conjunction with the launch, YES also launched a series of special YES #FirstTo5G Plans which include unlimited 5G access until April 1, namely the YES FT5G Prepaid Unlimited, YES FT5G Postpaid 49, and YES FT5G Postpaid 99 Phone Bundles.
Current 5G coverage areas include Putrajaya, Cyberjaya and parts of Kuala Lumpur City Centre with plans to rapidly expand to all major cities by end-2022.
Among Malaysia's mobile network operators, YTL Communications is one of the two backers of Digital Nasional's plan for the single wholesale network (SWN) model while Telekom Malaysia said it would support any decision made by the Government.
Four other operators – Celcom, DiGi, Maxis and U Mobile – have recommended that the Government allows two wholesale 5G networks, each to be built and operated by a consortium of carriers. – Jan 10, 2022