DAP has erred by claiming that it has never retracted its support for Tun Dr Mahathir Mohamad during his tenure as the country's seventh premier in the aftermath of the 14th General Election (GE14) in 2018.
In rebutting the statement by the party's secretary-general Anthony Loke Siew Fook that DAP has never pressured the two-time premier during his second premiership stint, Muafakat Nasional deputy president Datuk Zuraida Kamaruddin claimed that DAP was one of the parties that wanted Dr Mahathir to give up his position.
"On May 10, 2019, DAP veteran Tan Sri Lim Kit Siang stated in a ceramah (speech) in conjunction with the Sandakan by-election that he himself would resign if Dr Mahathir didn't hand over the position of Prime Minister (PM) to (Datuk Seri) Anwar Ibrahim immediately," the former PKR Women's wing chief revealed in a media statement.
"This is one of the main evidences that show DAP's true intentions which are indeed insincere during the administration of the Pakatan Harapan (PH) government after the coalition's great victory in 2018."
Loke's statement came as a reaction to a social media post by Dr Mahathir who accused DAP of wanting to make Malaysia a secular country.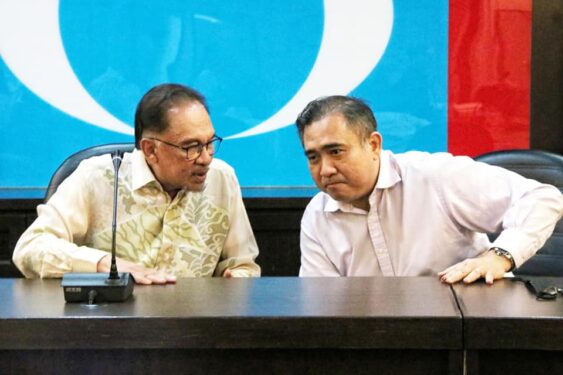 Recall that Zuraida was made the urban well-being, housing and local government minister during the PH reign till March 2020 when she deserted PH at the height of the Sheraton Move conspiracy alongside the then PKR deputy president Datuk Seri Mohamed Azmin Ali to join Bersatu (after which she left Bersatu to join Parti Bangsa Malaysia in May 2022).
According to the former Ampang MP who was eventually sacked from PBM on Dec 26 last year following a leadership dispute with the party's president Datuk Larry Sng, the statement from Kit Siang who was deemed the most influential DAP leader at that time caused many PH component parties to feel uncomfortable and began to dispute DAP's true intentions.
"If pressure is not given to Dr Mahathir at that point, of course will not resign or have plans to do so," claimed Zuraida.
"Therefore, I would like to remind Anthony Loke and other DAP leaders not to lempar batu sembunyi tangan (literally, throw stones then hide their hands) in matters related to the resignation of Dr Mahathir after 22 months in his PM capacity."
Added Zuraida who failed in her bid to defend her Ampang parliamentary seat under the PBM ticket in GE15: "DAP's insincere attitude in supporting the administration of Dr Mahathir at that time also directly contributed to the resignation of the seventh PM." – July 4, 2023