PARTI Bangsa Malaysia (PBM) former president-designate Datuk Zuraida Kamaruddin has described the act of Prime Minister (PM) Datuk Seri Anwar Ibrahim who jokingly asked for the phone number of a Form Six pupil during the recent town hall session at the Universiti Sains Islam Malaysia (USIM) Nilai as "very shallow and embarrassing".
In a question-and-answer session (Q&A) with the audience, the female pupil posed two serious questions about the worsening decline of the Malaysian ringgit currency and also about the role of youth in national development, according to Zuraida who spoke in her capacity as the Penggerak Komuniti Negara (PKN) chairman.
"In the session, Anwar not only gave a very weak rhetorical answer but also issued a sexist remark by saying that if he were still young, he would have asked for the phone number of the female student," Zuraida pointed out in a media statement.
"This is not only unprofessional but terrifying in that it came from a national leader. A PM should maintain decorum and ethics in attending events involving the public and should not behave like an uncivilised old man."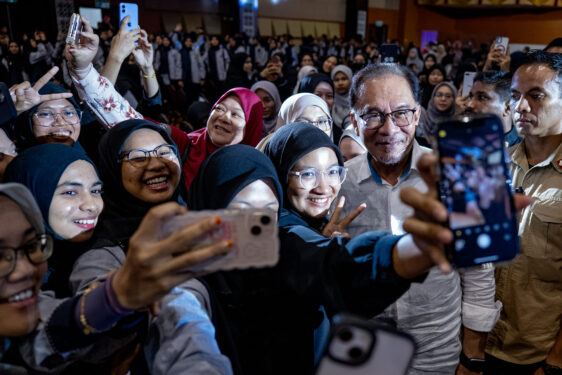 Zuraida further contended that Malaysian women in general have fought to raise the country's dignity in various fields and should be respected as the backbone of the country's development.
"The PM's actions have directly brought down the dignity of Malaysian women and seem to have brought this country to an age of ignorance that sees women as mere objects," claimed the Muafakat Nasional deputy president.
"As a mother, I am also worried about this development because if a PM shows such attitude in a forum in front of a large audience, what will be the fate of young women in this country who want to be directly involved in other open discussion programmes organised by the government?
"Will our daughters be judged only by their appearance, and not by their level of thinking and wisdom in the discussion of a matter?"
As such, Zuraida urged Anwar to apologise and immediately rectify his mistake before it is considered a new norm in his reign as Malaysia's 10th PM.
"Additionally, I also want to praise the action of MUDA's deputy president Amira Aisya Abdul Aziz who has loudly reprimanded the PM openly about this while the entire women's wing of Pakatan Harapan (PH) and Barisan Nasional (BN) who are in the unity government are sitting silently, muted in their response." – June 26, 2023
Main pic credit: The Star