FORMER PKR Wanita chief Datuk Zuraida Kamaruddin has hit out at the suggestion mooted by the Madani Government Political Secretaries Council chairman Datuk Seri Shamsul Iskandar Mohd Akin for Putrajaya MP Datuk Dr Radzi Jidin to be suspended for criticising Prime Minister Datuk Seri Anwar Ibrahim in the Parliament, calling such a proposal "inappropriate".
For context, Shamsul had said that the council would urge Minister in the Prime Minister's Department (Law and Institutional Reforms) Datuk Seri Azalina Othman Said to start proceedings to suspend Radzi from his duties to serve as a lesson for all MPs.
This follows the Bersatu vice-president's refusal to adhere to the directive by Dewan Rakyat speaker Tan Sri Johari Abdul during the winding up of debate on the 12th Malaysia Plan (12MP) mid-term review in the Parliament on Tuesday (Sept 19).
During the ensuing emotional outburst which lasted 20 minutes, Radzi who was also the former education minister was ejected from the Dewan Rakyat for his continuous argument with Johari regarding a remark made by Anwar which he claimed has tarnished his image while repeatedly asking Johari to urge Anwar to retract his statement.
In defending Radzi, Zuraida deemed the action of ordering Radzi to leave the august house as "very undemocratic given it was the Tambun MP (Anwar) who was provocative in the first place by issuing an accusation statement".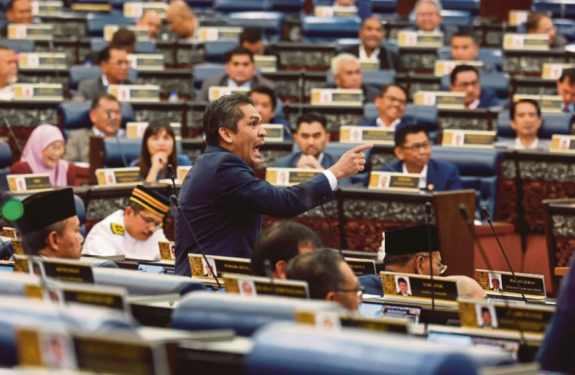 "Even if there are a MPs on the government's side who are not happy with the statement issued by the Putrajaya MP, the debate between parliamentarians in the august house is part of the democratic process that needs to be respected by all parties," opined the Muafakat Nasional deputy president in a statement.
"The Putrajaya MP's counter statement on a criminal case committed by the Tambun MP in the Dewan Rakyat at that time is also fact and not a slander given that the latter had previously been found guilty (of the crime)."
Appropriately, Zuraida noted that the one-sided action taken by Johari while the session was in progress and the recommendation to impose disciplinary action on Radzi is not a proper action "because it restricts the freedom of parliamentarian to speak".
"I believe that suppressing the voice of parliamentarians is not a reform that the government wants to initiate at this point of time, hence if action is imposed on the Putrajaya MPs, it will not only slow down the democratic process but also an insult to the Dewan Rakyat which should be the main battlefield to discuss general problems freely," she added. – Sept 22, 2023