FRESH from filing an appeal against the High Court ordering her to pay RM10 mil to PKR for breaching the bond binding her to her former party, Datuk Zuraida Kamaruddin has taken a swipe at Pasir Gudang MP Hassan Karim for pleading to the people to be patient with Datuk Seri Anwar Ibrahim-led unity government which is still at "its infant stage".
Voicing disagreement with her former PKR colleague, the now Muafakat Nasional deputy president reckoned that the 10th Prime Minister (PMX) is not a new face in the country's administration because he was a deputy prime minister (DPM) who held several cabinet positions for approximately 16 years from 1982 to 1998.
"Likewise, is the case with current DPM, Datuk Seri Ahmad Zahid Hamidi who has held cabinet positions for 14 years from 2004 to 2018 and many other leaders from UMNO who have been appointed as cabinet members in his government," Zuraida who was the former PKR vice-president pointed out in a media statement.
"This does not even factor in cabinet members from DAP, Amanah and PKR who were appointed as ministers or deputy ministers after Pakatan Harapan's (PH) first victory in the 14th General Election (GE14)."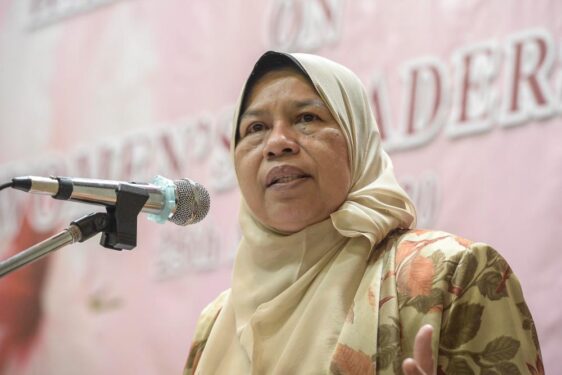 Therefore, the former Parti Bangsa Malaysia (PBM) president-designate opined that it is very inappropriate to regard the unity government as inexperienced.
"In my view, the government at this point has failed and cannot come out of this failure because of Anwar's own egoistic and incompetent attitude in governing the country," she noted.
"Perhaps in the 1980s, he was a leader who was still fresh and was sharp-minded in addition to receiving full support from the then PM Tun Dr Mahathir which allowed him to carry out his duties as a member of the cabinet well.
"However, at this point, he may have been too exhausted from being involved in endless political drama to the point of being surprised and bewildered when he finally succeeded in becoming Malaysia's 10th PM."
Zuraida who was the former plantation industries and commodities minister further took a fig at Anwar for his 'undelivered' promise made on Feb 26, 2008 in Tanjung Dawai, Kedah whereby he was quoted as saying "Today (March 8, 2008) we announced victory, tomorrow (March 9, 2008) we announced a drop in oil prices".
"This is his promise in 2008 and I think if we were to keep track of all his promises starting from the time he was fired from UMNO (1998) until now, maybe we could already published hundreds of books," suggested Zuraida.
"If unable to govern, maybe it's time for Anwar to retire and apologise for breaking his promises to the people." July 13, 2023