AMID ongoing investigations into alleged misappropriation of funds at Caely Holdings Bhd, the lingerie maker has embarked on a new chapter moving forward with the official introduction of the group's new board of directors (BOD). 
The seven new BOD members are Ng Keok Chai (executive chairman); Leong Seng Wui and Kenny Khow Chuan Wah (executive directors); and Datuk Kang Chez Chiang, Krishnan Dorairaju, Chong Seng Ming and Datuk Mior Faridalathrash Wahid (independent non-executive directors). 
In a statement, Leong said the new management will bring the company back on the right track, adding that the ultimate aim of the new board is to work hard to revive Caely's various businesses and reward all its employees and stakeholders for their long-standing support.  
Leong also said that the group seeks to seize this period as an opportunity to stride forward with new business plans for the company now that they have a new BOD. 
The group announced its plans to expand its manufacturing segment with a proposal to do a joint venture with an Indonesian counterpart for a new production facility and bring in additional earnings in the near future. 
Besides that, Caely is also looking to re-strategise its direction by identifying and engaging market experts in the property development segment in a bid to revive the business.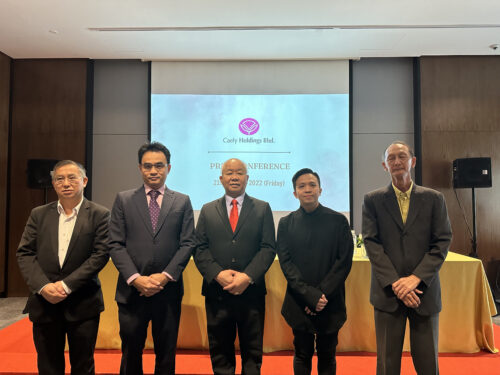 "With additional land banks in Tapah and the Klang Valley, we will be hiring experts in the property development sector to identify potential projects that will contribute positively to the Group," Leong explained.   
"This will also include future acquisitions, to boost Caely's overall business." 
Meanwhile, Ng said the new board will fully support and cooperate with the Royal Malaysian Police Force's (PDRM) ongoing investigation into the alleged funds swindling at Caely, which also aims to recover as much as possible for the benefit of the company and its shareholders. 
"In addition, (Caely's forensic auditor) Virdos Lima will be able to continue with their investigation with the support from the new board, including (by) providing the necessary documentation relevant for their investigation to the extent possible," he added.  
"Leave no stones unturned" 
"Once again, we will leave no stones unturned and get to the bottom of this." 
Since February 2022, Caely has been embroiled in a legal case of misappropriation of funds, involving Caely's founder and former executive director Datin Fong Nyok Yoon and her husband Datuk Chuah Chin Lai as well as the group's former BOD. 
The couple is alleged to have misappropriated some RM30.55 mil from a Caely subsidiary, Caely (M) Sdn Bhd (CMSB), through 10 "questionable" related-party transactions. 
On Aug 26, a change in the boardroom took place when the entire former board, excluding Fong, was removed, while Leong, Kang, Ng and Krishnan were appointed as the new BOD. An additional three members, Khow, Chong and Mior, were appointed on Sept 27. 
On Oct 5, the new BOD lodged a police report requesting a police investigation of any alleged misappropriation of funds amounting to RM30.55 mil involving CMSB during the tenure of the previous board members. 
On the other hand, in the latest development regarding the civil suit against 12 of its former directors, Caely said it filed a claim on the possible systematic misappropriation of funds of not less than RM30.55 mil in CMSB by Fong and Chuah and the "deliberate concealment and non-disclosure" of this by the other former directors to the public. 
"The new board is hopeful to recover the misappropriated funds, which were supposed to be utilised for the business development and growth of the company in the best interests of the stakeholders, as soon as possible," added Ng. – Oct 22, 2022