PAKATAN HARAPAN (PH) chairman Prime Minister Datuk Seri Anwar Ibrahim has urged all quarters to cool off and respect the democratic process in what appears to be a peace offering to the opposition but the eighth premier and Perikatan Nasional (PN) chairman Tan Sri Muhyiddin Yassin wants him and his deputy Datuk Seri Ahmad Zahid Hamidi to be booted out.
"After the hard battle, perhaps the temperature can get quite hot. Now is the time to come together, maintain national harmony, and focus on improving the country and the people's lot. That is our focus," Anwar told reporters last night in the aftermath of the outcome of the six state elections being made known.
While he pledges that the unity government remains firm and will continue to strive to develop Malaysia, Muhyiddin is using PN's big win in the three Malay-majority states (Kedah, Kelantan and Terengganu) where his coalition trounced the PH-BN alliance to call for a change of government in Putrajaya.
The Bersatu president questioned the relevance of UMNO, highlighting PN's inroads into the Malay-majority seats in developed states of Selangor and Penang while UMNO had won only 19 of the 108 seats it contested (17.6% success rate).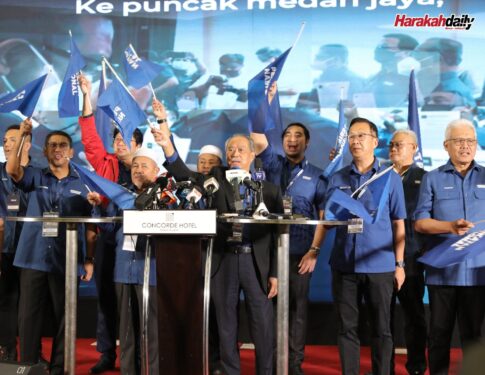 "PN's roaring success in garnering Malay support shows that PN is now the main political platform for Malays," asserted the Pagoh MP.
"UMNO is no longer relevant when it won only 19 of 108 seats it contested, meaning it has suffered a resounding defeat in losing 82% of those seats," he said told reporters in the wee hours of today (Aug 13) after the results of the state polls were finally out.
To rub salt in the wound, Muhyiddin also expressed belief that should there be a higher turnout of voters, PN could have wrested control of Selangor. – Aug 13, 2023