BERJAYA Air Sdn Bhd, the aviation company under Berjaya Land Bhd, will soon have two turboprop ATR 72-600 aircraft which are configured for VIP operations in its fleet as the perfect fit for its discerning clientele.
The purchase of the planes which boast exceptional performance, reliability and comfort was made possible with the inking of a heads of agreement (HOA) yesterday (June 27) between Berjaya Air and leading regional aircraft manufacturer ATR.
The HOA is deemed to mark an important milestone in the strategic growth plans of Berjaya Air as it solidifies the airline's commitment to expanding its fleet with state-of-the-art aircraft.
Moreover, it showcases Berjaya Air's dedication to continuous growth and its commitment to offering exceptional services to its customers. The company remains focused on investing in industry-leading solutions and maintaining its position as a key player in the aviation sector.
Fitted with the new PW127XT engines, the ATR 72-600 emits 45% less CO2 than similar-size regional jets.
"I look forward to the collaboration with ATR. This milestone exemplifies Berjaya Group's commitment to excellence and bringing great travel experience to our customers," commented Berjaya Corp Bhd's founder and advisor Tan Sri Vincent Tan Chee Yioun.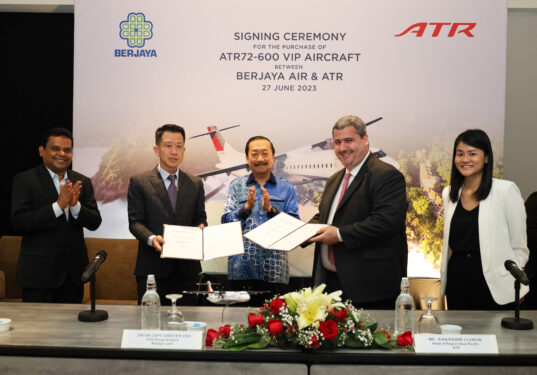 "It is also my passion to ensure that every initiative that we do in the group must have clear elements of sustainability and preservation to our environment. This new fuel-efficient aircraft is testament to this."
Through its agreement with ATR, Berjaya Air will be introducing the ATR Highline 'All Business Class', an unparalleled and premium option for those desiring comfort during their flights.
By expanding its fleet with these advanced ATR aircraft, Berjaya Air aims to meet the growing demand for VIP travel services in the region, according to Berjaya Land's group CEO Syed Ali Shahul Hameed.
"With cutting-edge technology, enhanced passenger comfort, and impressive efficiency, the All-Business Class option offers plush recliners, side storage and other amenities, enabling us to cater to the evolving needs of our esteemed clientele," he noted.
"Our commitment to excellence combined with the performance of the ATR aircraft, will undoubtedly redefine luxury air travel and sustainability standards in the aviation industry."
According to the Aircraft Cost Calculator website, the ATR 72-600 which was first rolled out in 2011 requires a two-member crew and can transport up to 72 passengers (for normal operation). Depending on numerous factors, the average price for a pre-owned ATR 72-600 is US$17.85 mil (RM83.3 mil). – June 28, 2023